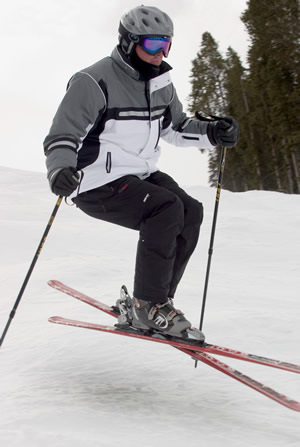 Phil Mickelson skiing bumps at Beaver Creek just a few weeks before the Masters in 2005.
Photo by Cody Downard
Blog Tools
Comments
PermaLink
Woods' phony family-guy act offers one more reason to pull for Mickelson
By David O. Williams
December 13, 2009 — Even before "Mistress-gate" took down Tiger Woods, I always pulled for Phil Mickelson if he was anywhere near the top of the leader board, especially in a major. If Lefty wasn't in the hunt, I'd grudgingly root for El Tigre just to see history in the making.

But Lefty showed me what kind of guy he was when he beat me in three straight NASTAR ski races at Beaver Creek just a few weeks before he played in the Masters back in 2005. He's funny, engaging and fiercely competitive. Woods, by contrast, who also has skied Beaver Creek, always seemed to me to be cold, calculating and detached.

I asked Mickelson at the time if he thought he would beat Woods in a ski race now that the world's greatest golfer was getting ski lessons from his expert-skier wife Elin Nordegren of Sweden.
"If he's comparable to you, yeah," Mickelson said with a grin, chiding a ski writer for losing in the gates to a pro golfer.

Mickelson will always live in Woods' shadow as a golfer, owning "only" three majors to Woods' 14. But Lefty clearly towers over Tiger as a man, quitting golf to be with his wife and mother when both were diagnosed with breast cancer.

By all accounts Mickelson is the ultimate family man, doting over his wife and children to the point of distraction, his critics claim. Good for him.

Years ago I used to not really care what kind of character my sports heroes demonstrated off the field of play. I shrugged when John Elway won two Super Bowls for long-suffering Denver fans then cast off his longtime wife Janet to chase cheerleaders.

Now the man is diminished in my mind by that behavior and his increasingly bizarre rightwing politics. Those Super Bowl wins don't taste quite so sweet anymore. Ditto for the CU Buffs lone championship after Bill McCartney went off the deep end with his patriarchal Promise Keepers.

Kyle Orton may not have the physical tools of Elway (or even Jay Cutler), but the guy drives a Honda hybrid because he cares about global climate change. The Patriots can have Bush White House suck-up Tom Brady and their three Super Bowl wins. Give me the hybrid-driving Orton any day.

But those are political concerns. What Woods did is try to fool us all into thinking he was the ultimate family man while he was out wildly boinking anything in heels. That's fine, but just stay single ala Derek Jeter and don't foist off this faux-family-guy image on us. I'm sick of family-values conservatives trying to tell us all how to live while acting like complete scum behind closed doors.

Now, I have to say, I hope Woods never catches Jack Nicklaus and his record of 18 majors. Go Lefty.


8 Comments on "Woods' phony family-guy act offers one more reason to pull for Mickelson"