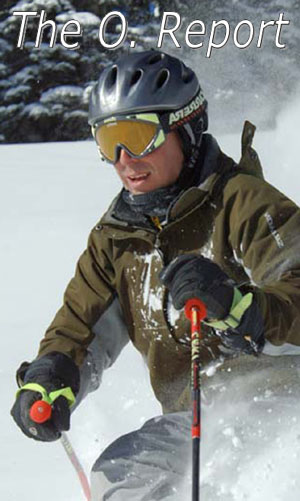 Blog Tools
Comments
PermaLink
Dreams do come true: Vail's Christmas keeps getting gradually whiter
By David O. Williams
December 23, 2009 — Vail and Beaver creek only reported 3 inches of new snow Wednesday … but we'll take it. It's not the size of the gift, it's the thought that counts, or something like that.

In stark contrast to the past two Decembers, when snow kept relentlessly piling up to our chimneys with care, it's been a dry start to the 2009-10 ski season so far in the Vail Valley.

But a little mid-week blast of snow softened things up significantly Wednesday, providing me and my boys (out of school for the next two interminable weeks) a much better ski experience than recent days.

And the snow kept falling during the day, lightly filling in tracks and promising even better turns on Christmas Eve. In fact, we caught one of the last chairlifts rides Wednesday (only my sixth day on skis so far this season, mostly because I'm a foul-weather skier) and snow was still lightly falling.

Forecasters were calling for another 2-4 inches overnight Wednesday into Thursday and another inch or two overnight Christmas Eve. Again, we'll take whatever we can get.

To be clear, things could be much worse. The entire front side of the mountain is open and in very good shape, thanks to a couple 6-or-7-inch storms in the last two weeks and temperatures more than cold enough for plenty of good snowmaking. And Game Creek Bowl is open for a backside light experience. But we need that good foot-and-half dump to get the Back Bowls open for the New Year.

Still, if you're from most of the rest of the country – say Back East or the Midwest -- what we experienced on Vail Mountain Wednesday would be one of the best powder days of the year. So yes, we are spoiled here in Vail.

Anyway, slow but steady seems to be the theme this season, so maybe we'll have a better March than we've seen in recent years, when the snow has disappointingly tapered off during what's supposed to be the deepest month of the year. Only time will tell.

In the meantime, things are getting steadily better up here (and more terrain is rumored to be coming online for the holiday week), but the lower snowfall totals mean pass restrictions will be in effect Sunday, Dec. 27, through Saturday, Jan. 2.

The restricted passes (meaning you have to pay a day rate to ski) are: Colorado Pass, Merchant Pass, School Employee Pass, Senior Mid Week Pass, Young Adult Pass, and Guest Fee and Community Relations. Epic Passes are good to go.


4 Comments on "Dreams do come true: Vail's Christmas keeps getting gradually whiter "