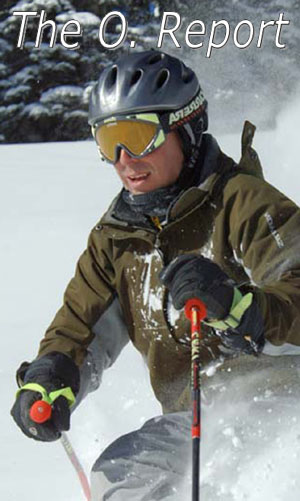 Blog Tools
Comments
PermaLink
At long last, Vail Valley pummeled by more than 2 feet of powder since Wednesday
Monday promises best conditions of to-date disappointing ski season
By David O. Williams
January 24, 2010 — In the snow biz – which, let's face it, is the industry of every ski company town – the storm that rolled into the north-central Rockies on Friday was a season-saver.

We began with a teasing taste of 4 or 5 inches that softened things up a bit for Wednesday. After a break on Thursday, more snow rolled in Friday and gave us a good 5 or 6 inches for Saturday morning.

While the southwestern part of the state was digging out from 50 or 60 inches, the Vail Valley was still in "we'll-take-it" mode, happy to have close to a foot in four days after the brutally dry and sunny January we'd been suffering through.

But then intermittent bands of snow during the day Saturday turned into 9 new Sunday morning, the second highest total anywhere in the state (Telluride got 11). And it proceeded to snow all day Sunday.

As I wrote this at 4:30 p.m. Sunday, having just watched the Colts finally silence the insufferable Rex Ryan and the upstart Jets, it was still snowing fairly hard. That's good news for anyone lucky enough to have Monday morning off, because the lifts were shut down at that point and all that snow was just piling up for anyone able to head out into the great white open.

I got out both Saturday and Sunday morning at Vail and enjoyed by far the best conditions of the season so far – a season that started unimaginably slow and finally looked to be getting into gear over the holidays. Then the snow spigot just stopped, throwing us all back into a low-snow funk.

Now we've had more than 2 feet since Wednesday and more snow is in the forecast for this week, with Wednesday and Thursday looking like the best bets. The Powder Predictor (RealVail's Reid Griebling) seems to have quite accurately predicted a shift in the jet stream that should lead to a much snowier February and hopefully the stellar spring skiing of March and April that the Vail Valley is famous for. Only time will tell on that front.

If it is an amazing February, I won't be here to enjoy it. I leave Tuesday for Seattle, then Vancouver and finally Whistler, where I'll be covering the alpine ski racing events at the Winter Olympics for the Olympic News Service.

By all accounts, the snow we're getting now in Vail would be very nice in and around Vancouver, where Cypress Mountain just outside the city was stripped of snow by recent rains and now is looking low and dry for the freestyle events at the Games. Crews will be massively challenged to build a half-pipe, ski-cross course and venues for aerials and moguls.

Of course, the Canadians have a plan, and given what I witnessed first-hand in Italy in 2006 when there was no snow in the Alps just a few weeks before the Games and then the skies opened up, things can change in a hurry. Whistler, by the way, is much higher and farther north than Cypress and should be in good shape for the exploits of Bode Miller and Vail's own Lindsey Vonn.

Anyway, if it takes me heading off to the Olympics for a month to get the snow gods smiling on the Vail Valley again, I'm willing to take one for the team. Enjoy in my absence, and leave me some freshies for March.


1 Comment on "At long last, Vail Valley pummeled by more than 2 feet of powder since Wednesday"