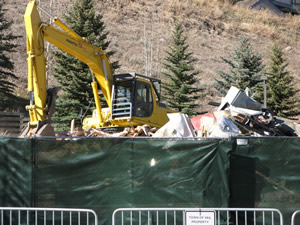 Blog Tools
Comments
PermaLink
Vail quickly turns Wendy's into Spendy's
And other really witty election observations
By David O. Williams
November 8, 2007 — As I drove down the hill from my West Vail home Wednesday morning in a bleary, post-election haze, I was greeted by the shocking sight of heavy machinery tearing down the Wendy's where a new fire station will soon be going in.


Besides lamenting the loss of a greasy local icon in the name of emergency services (so what if my property values go up, I need my midnight Frosty), I was shocked at the speed with which the town is already spending the construction use tax … before it's even collected.


But hey, I guess when you've been pumping funds into things like windmill art on the golf course, Bellagio-style fountains in the heart of the village and snowmelt systems beneath the streets all over town, when you get a chance to build something as practical as a fire station, you'd better jump on it.


Some other Vail election observations and quotes that may interest only me (see complete Eagle County election coverage in Real News):


Dick Cleveland, re-elected Tuesday, on being drummed out by voters two years ago because of his opposition to the redevelopment of Crossroads:


"Tonight is much better than it was two years ago when I was not re-elected. People in this community wanted a bowling alley and wanted a movie theater (both going into the new Crossroads) and I think they saw me as getting in the way of that, and that's a fact of life in this political realm. I didn't like it, but voters spoke and I think I'm better person for it."


Incumbent Kim Newbury on just missing a four-year term (by a three-vote margin to newcomer Margaret Rogers):


"I would have loved to have gotten a four-year term, but I think it will actually be good that I got a two-year term. I have an eight-year-old and a six-year-old and who knows, in two years I could be in a place where it's not good for them for me to be on council. This council will be very good, we'll get a lot done and in two years I'll be able to re-evaluate what's good for me and my kids."


Andy Daly, former Vail Resorts president, on whether he has mayoral aspirations:
"Not to be evasive, but I don't know if I do or not. I want to be in a position where I can be as effective as I can be for the next four years, and that has been my objective from the very beginning. I have no expectations right now, and I'll work with whoever is the mayor."


Finally, pretty slim turnout for such a key election (24 percent), but it was an off year with no other really juicy stuff on the ballot. I would, however, like to point out that four of the five candidates I voted for got in. I just won't say which ones.


There, now my notebook is cleaned out of election stuff and we can get on with the business of ski season. Breck opens Friday, although it has been warm, sunny and flake-free for weeks. But forecasters say something may be rolling in Sunday. Hope so. Vail's only a little more than a week away.


Comment on "Vail quickly turns Wendy's into Spendy's" using the form below