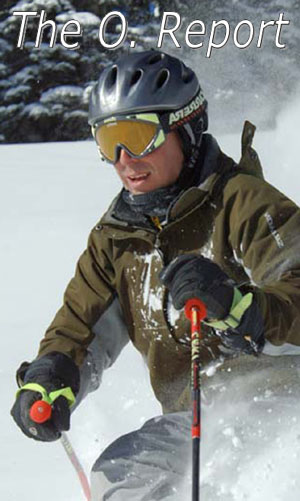 Blog Tools
Comments
PermaLink
Waiting out the wet and wild weather in Whistler
By David O. Williams
February 14, 2010 — WHISTLER, British Columbia - Finally, after more than two weeks in Canada, it looks like the Winter Olympics are going to get under way.

I was in Vancouver training for my gig with the Olympic News Service for nearly a week, ate some great sushi, Thai and Korean food on Robson Street, walked and ran around Stanley Park and generally had a great time in one of the North America's great cities.

Now I've been in Whistler since Feb. 3, previewing and analyzing the alpine skiing events from every possible angle, but deep down wanting the Games to start as quickly as possible. Then a warm and wet storm front moved in and delayed training runs all week and forced the postponement of the men's downhill Saturday and the women's super combined today.

But finally the skies have cleared and it looks like we're going to get a race in Monday - the men's downhill at 10:30 a.m., Pacific Time.

That will be sandwiched by two women's downhill training sessions that will really show how far Ski and Snowboard Club Vail's Lindsey Vonn has come in recovering from a bad case of "shin bang" she got training in Austria earlier this month. All the delays have been helping her significantly.

Bode Miller appears to have his game face on for tomorrow's downhill, so it's truly go-time at Whistler Creekside. Other Vailites working at Creekside include the Vail Valley Foundation's John Dakin, managing the press mix zone, and Katrina Ammer, who's been here for years helping set up the amazing facilities and courses for the alpine events.

Everyone's done an awesome job, including the hundreds and hundreds of volunteer "Whistler Weasel Workers," named for the steep "Weasel" section of the Dave Murray men's course. They've been joined by some of the Vail Valley's finest course workers who make the Birds of Prey men's World Cup such a success every year.

It's all quite an improvement on the Italian ski troopers enlisted to work the courses when I did this job at the Torino Winter Games in 2006. Guys with guns on skis should not be slipping water-injected, rock-hard downhill courses. Just my opinion.

As a side note, while it has been raining at the finish area the last couple of days, up high on the mountain here in Whistler, my personal in-depth research revealed tons of great powder. It's the maritime stuff that's creamy and super-fun to ski.

Up high on Blackcomb Glacier Saturday afternoon it was pounding snow close to the summit at about 7,000 feet (1,000 feet below the base of Vail Mountain) and raining like mad when I skied past the sliding center on my way to Whistler Village. Complete change in weather systems in the span of 4,000 vertical feet. Crazy.

My RealVail partner Tom Boyd has been doing the same ONS gig at Cypress Mountain near Vancouver, where sheets of rain were sweeping the women's mogul final Saturday night. Stay dry down there, Tommy, you're a mountain boy not used to all that water.

Anyway, I've had some great moments so far, like watching Crazy Canuck Steve Podborski (bronze medal in the downhill at the 1980 Lake Placid Games) ski the Olympic torch down in Whistler Village. Or standing in the dinner break room surrounded by Royal Canadian Mounted Police during the singing of Oh, Canada! for the opening ceremonies Friday. And then watching on the big screen in Whistler plaza, surrounded by hundreds of cheering Canadians, as Wayne Gretzky lit the cauldron in Vancouver.

Those moments give you chills, no matter the temperature.

Speaking of, anyone using recent snow in Washington. D.C. to debunk global climate change needs to check out the steam-bath conditions in Whistler lately. If anything, weather gone wild seems to provide more impetus for reducing our carbon footprint.

Helicoptering in snow, of course, is not a great way to do that. But that's another blog post for another day.

In the meantime, go Bode, go Lindsey (and later in the Games go Sarah Schleper and Chris Del Bosco). Vail Valley residents have a great chance to bring home the gold.

Let the Canadian Games begin!


2 Comments on "Waiting out the wet and wild weather in Whistler"