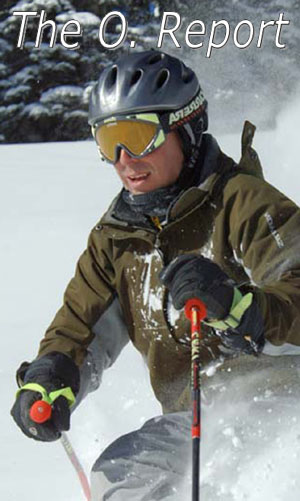 Blog Tools
Comments
PermaLink
More snow hits Whistler, scrubs men's super combined, gives Vonn one more day off
By David O. Williams
February 16, 2010 — WHISTLER, British Columbia - One race down, nine to go here at the alpine ski racing events of the 2010 Winter Olympics in sub-tropical but snowy Whistler.

A fresh dumping of snow and warmer temperatures overnight and Wednesday morning forced the cancellation of the men's super-combined event (one run of downhill and one run of slalom), meaning just one of the first four scheduled alpine ski races has hit the mark.

That was Monday's men's downhill (see the latest U.S. Ski Team update blog on RealVail), which was a testament to aging skiers as Switzerland's Didier Defago turned in the run of his life to become the oldest Olympic downhill champion at 32.

Aksel Lund Svindal of Norway, the guy who crashed in such spectacular fasion during training at Beaver Creek a couple of seasons ago (spending more time than he wanted to in the Vail hospital), took home the silver.

And Bode Miller, of Franconia, N.H., also 32, started early in the flat light on the frozen-over, rock-hard Dave Murray course Monday and absolutely nailed his run for the bronze, forever putting his medal shutout at Torino behind him.

As the cloud cover cleared a bit Monday, the course got faster, visibility improved and Miller got bumped by Svindal and Defago. At first, his early start looked good because it was feared the course would deteriorate. But it held up incredibly well and early racers had to deal with flat light.

Miller would have easily won gold starting 18th or 19th instead of eighth. Oh well, now he has Friday's super-G to look forward to.

His bronze, together with two silvers in combined and giant slalom from Salt Lake City in 2002, gives him an American record three alpine skiing Olympic medals. But you know he wants gold so he can join the ranks of Phil Mahre, Tommy Moe, Bill Johnson, Ted Ligety, Julia Mancuso and Picabo Street.

The U.S. now has half the medals in alpine that it earned at Torino, although both of those were gold (Ligety and Mancuso), with a lot more chances from athletes like Ski and Snowboard Club Vail's Lindsey Vonn and Sarah Schleper, as well as Mancuso, Ligety and, of course, the five-event star, Miller.

Other Vail notes: I stopped by the Vail House at the base of Whistler Creekside after the race on Monday and ran into Beth and Rod Slifer on their way out, and John and Vicky Garnsey and Ceil Folz inside. Thanks for the beers and hospitality Team VR and VVF. Way to represent in Whistler.

Up at the press center at the base of the alpine venue (a short chairlift ride out of Creekside), I ran into the Vail Daily's Mark Bricklin doing his Bricklin thing. Good to see more Vailite's making it up to the Games.

And now I'm off to put out more sparkling ski-racing reports for the Olympic News Service (and maybe get in a few powder turns up high on the glacier).

Comment on "More snow hits Whistler, scrubs men's super combined, gives Vonn one more day off" using the form below