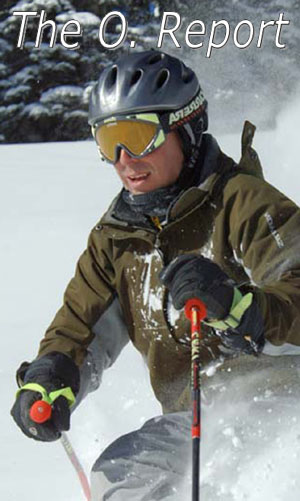 Blog Tools
Comments
PermaLink
Bode goes for another medal in Whistler; Vonn just misses in super combined
By David O. Williams
February 19, 2010 — WHISTLER, British Columbia - It's another sunny day in the normally Great Wet North, which means we'll get in our fourth (of 10) alpine-skiing medal events of the Vancouver Winter Games.

Today the men get back after it in speed events with the super-G. Look for Bode Miller to try and build off his bronze in Monday's downhill.

Vail's (and Minnesota's) Lindsey Vonn looked like she was headed for another medal Thursday in the super combined to go with her downhill gold from Wednesday. She was leading after the downhill leg but hooked a gate and crashed in the slalom to give the win to her friend and top rival, Germany's Maria Riesch.

The story of the day (besides a second silver medal for American Julia Mancuso) was Swedish mega-star Anja Paerson coming back from a nasty crash the day before in the downhill to collect the bronze in super combined. Internal bleeding in her calf, massive butt bruise, no problsm. Takes some heat off Lindsey's "Shin-gate" story.

Anyway, Vonn hasn't been too good in slalom all season, and she's never won anything in giant slalom, so her next (and perhaps last) medal hope comes Saturday in super-G, when she should get her second gold. Look for Riesch, the World Cup slalom leader, to get another gold in that event Feb. 26.

And the way Mancuso is skiing (somewhat out of the blue), she could defend her giant slalom gold from Torino in 2006. She already the winningest American female ski racer in Olympic history.

Miller, the winningest American male ski racer in Olympic history, is the best U.S. hope in today's super-G, but I'm looking for Norwegian great Aksel Lund Svindal to upgrade his silver he won in Monday's downhill.

I also have Canadian Erik Guay avenging his bitter defeat at the Torino Games when he finished just off the podium by .01 seconds when the legendary Hermann Maier skied last and claimed silver.

After Saturday's women's super-G, we get the postponed (from Tuesday) men's combined on Sunday, and then we're done with speed events. That means weather rolling in Tuesday won't have too much effect on next week's tech events (GS and slalom) except to make it miserable for fans and journalists trying to cover the races.

My next day off looks like Monday, so I'm hoping to celebrate a U.S. win over Canada in hockey Sunday by getting up on the mountain for a little more skiing.

I'll keep you posted. In the meantime, enjoy all the new snow in Vail.


Comment on "Bode goes for another medal in Whistler; Vonn just misses in super combined" using the form below