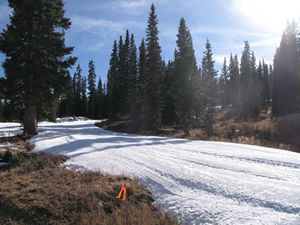 Acknowledging a lack of snow and that less than 1 percent of its terrain is available to snow riders, Wolf Creek is charging just $10 for lift tickets compared to more than $40 for most resorts.
Courtesy of Wolf Creek Ski Area
Blog Tools
Comments
PermaLink
Resorts keep opening despite lack of November snow ... so far
Breck, Wolf Creek join Copper, Keystone, A-Basin, Loveland
By David O. Williams
November 9, 2007 — A promising fall weather-wise for snow riders has devolved into a wretchedly warm Native American summer (in the interests of being PC) that has most resorts nursing a couple of white ribbons bisecting largely brown and grassy slopes.


That doesnít mean the snow riding is awful, just that itís pretty limited. That can all change with one big storm, and some weather is rolling in Sunday into Monday, but now forecasters arenít calling for too much mountain precip out of it (which is when theyíre usually wrong and it dumps a ton).


Regardless, the number of open resorts continues to climb. With Breckenridge opening today and Wolf Creek officially coming online Saturday, there will be six ski areas open for business in Colorado Ė all with typically scant mid-November terrain.

More often than not, Vail, which joins the fray next Friday (Nov. 16), opens with just a few runs on the western edge of the front side of the mountain (Born Free is the biggie), and it looks like that will hold true again this season. The big, snowy openings with the entire front side and some of the back available opening day are more the exception than the rule.


Still, as I always say this time of year, itís fun to get out on your boards and do some laps. What I really like is a resort that acknowledges the scarcity of snow and sets its price accordingly.


Wolf Creek Ski Area opens Saturday, Nov. 10, with its Nova beginner lift and the Nova Run operating from 9 a.m. to 4 p.m. The Southern Colorado resort usually known for tons of early-season snow opens with less than 1 percent of the mountain and machine-made conditions.


Itís a long drive from the Vail area, but the ticket price is a mere $10. For more info, call (970) 264-5639 or check out the Wolf Creek website at www.wolfcreekski.com.


Closer to home, Keystone, which opened last Friday, Nov. 2, previews the stateís only night-skiing option with 9 a.m. to 9 p.m. skiing today (Nov. 9). More consistent night skiing will be offered beginning Nov. 21.


By comparison to Wolf Creek, Keystone and Breckenridge are both charging $59 for an adult, full-day ticket. But given their proximity to Denver and the Vail area and if you just canít wait to make turns, that might seem a relative bargain. Also open are Copper, Loveland and A-Basin (which has been up and running for nearly a month).


Comment on "Resorts keep opening despite lack of November snow ... so far" using the form below