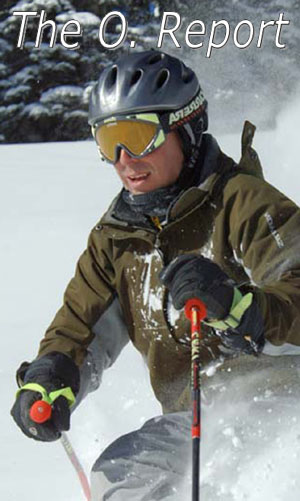 Blog Tools
Comments
PermaLink
Vail's Schleper, Vonn inspire in Olympic giant slalom, slalom
By David O. Williams
February 26, 2010 — WHISTLER, British Columbia - Vail's Sarah Schleper summed up the spirit of the Olympics Thursday at Whistler Creekside, improbably making the team after a year off for injuries and another year off to have a son, then finishing a respectable 14th on a tough course in terrible weather in the women's giant slalom.

Sarah goes again in the slalom today, the final women's alpine skiing race of these Games. It would be nice to see her improve on her Olympic-best 10th at the Torino Games, but no matter how she does, she's been a huge winner, a great teammate, and an inspiration to working parents (like my wife and me) around the world. Good on you, Sarah, as the Aussies say.

Julia Mancuso wound up eighth in the GS Thursday, turning in the third-fastest second-run time and proving her point that it was a seriously bad break that she had to re-start her first run Wednesday when Vail's Lindsey Vonn crashed in front of her.

But that's ski racing, and Mancuso seemed to realize that Thursday when she toned down the disappointment and appeared genuinely happy with her two silver medals at these Games. But I bet after her great slalom run in women's super combined here that she's maybe regretting her decision to not race in today's slalom.

Vonn, meanwhile, continues to show what a gamer she is. She'll race in today's slalom despite a broken finger sustained in her crash Wednesday. Add that injury to her famous case of shin bang and an arm injury from earlier in the season, and you can appreciate what she's going through.

Of course, same with a lot of the racers. Anja Paerson of Sweden won a bronze medal in the super combined here after a horrific crash in the downhill. All of these women have courage beyond description, and it's an inspiration to see them in action up close.

Vonn has had a wildly successful Games no matter how she does in today's slalom. She wanted one medal of any color and got the gold in downhill, something no other American woman has ever accomplished. Her bronze in super-G was icing on the cake.

Anyone who thought she had a realistic shot at five medals doesn't understand ski racing and just how hard it is to win one medal, let alone gold in the signature event of the Olympic Games.



Comment on "Vail's Schleper, Vonn inspire in Olympic giant slalom, slalom" using the form below