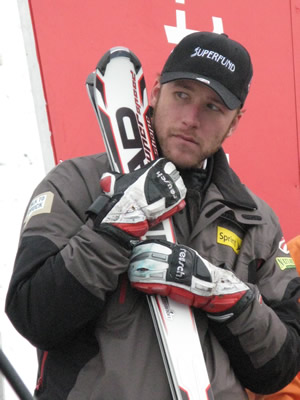 Bode Miller won't race this weekend on the World Cup circuit the way he did in this file photo from Beaver Creek, but Vail's Lindsey Vonn is in action and Miller is expected back for the World Cup Finals in Garmisch next weekend. The two top U.S. stars collected five Olympic medals at Whistler last month.
By David O. Williams
Blog Tools
Comments
PermaLink
Miller, Vonn defined by disaster at Torino, redemption at Vancouver
By David O. Williams
March 5, 2010 — WHISTLER, British Columbia – It's impossible for me to separate the alpine ski racing events of the 2010 Vancouver Winter Olympics from those of the 2006 Torino (Italy) Winter Olympics.

I attended both and worked at the alpine skiing venues for the Olympic News Service, documenting the story lines and interviewing the athletes. But beyond my personal experiences, two of the biggest American ski-racing stars in more than a generation were defined by what happened at the two dramatically different Olympic Games.

Lindsey Vonn (Kildow at the time) went into Torino among the favorites but by no means the over-hyped, runaway face of the Games that she was in Vancouver. More than a few Canadians told me they were irked by the Vonn-couver moniker, and Vonn herself said five-medal, Michael Phelps-like expectations were over the top.

But Vonn, a Ski and Snowboard Club Vail product who was just 21 at the time, famously crashed in training at San Sicario (site of the women's races) and had to be airlifted to a Torino hospital, where her childhood idol, Picabo Street, stayed by her side. A couple of days later, a badly banged-up Vonn managed to race but finished off the podium in her top events, failing to win even one medal.

It was New Hampshire's Bode Miller, 28 at the time, who went into Torino as the over-hyped lock to win five medals. A simultaneous media creation and antagonist, Miller went into Sestriere (site of the men's alpine events) bent on winning his way or not at all. Close in some but blanked in all of his events, Miller laughed it off by telling the Associated Press he "got to party and socialize at an Olympic level."

Miller, 32, improbably went into the Vancouver Games with little expected of him. He had just one win on the World Cup circuit this season, an injured ankle and a disgusted mainstream media machine focusing virtually all of its white-hot intensity on Vonn.

Both athletes delivered big-time in Whistler last month. The gloom of the Pacific Northwest weather, which postponed five of 10 men's and women's alpine races, couldn't dampen the brilliance of the American-record haul of eight alpine ski-racing medals for the U.S. Ski Team – five of them by Miller and Vonn.

In Torino, the gloom had much more to do with the U.S. coming up so woefully short of its stated goal of eight alpine medals. At those Games, only surprise golds from Ted Ligety and Julia Mancuso kept it from being a complete disaster. Ligety, unfortunately, couldn't recapture the magic in Whistler, but Mancuso came from nowhere to win two silvers (in downhill and super combined).

Vonn, now 25, came into Vancouver limping on a badly bruised right shin she got in a training run in Austria earlier in the month. Weather delays for training runs and three of the first four alpine events allowed her to heal to the point that she nailed a Franz's Run downhill course at Whistler that had gone from soft and slushy to frozen-over and deadly virtually overnight.

She won her downhill gold Feb. 17, the first American woman to ever accomplish the feat, and looked more relieved than anything at the ensuing press conference.

"I got exactly what I came here to get, a gold medal," Vonn said. "Everyone expected me to get it, but it's not just as easy as saying you can do it. There's a lot more work that goes behind it. At least I know that I've got a gold medal and I will go home happy no matter what happens in the next few days."

That proved a telling statement the next day, as Vonn crashed with a lead in the slalom portion of the super combined (one run of downhill, one run of slalom) and watched her good friend and rival Maria Riesch take home her first of two gold medals.

Given Vonn has never won a World Cup giant slalom and only twice won a slalom (both last season), her hopes now boiled down to the super-G on Saturday, Feb. 20. She later admitted to skiing the top, technical section well but letting up on the gas toward the bottom – a decision that left her with a bronze medal and some inexplicable criticism for underachieving at the Vancouver Games.

Before Miller won a gold, a silver and a bronze at Whistler to go with two silvers from the 2002 Salt Lake City Winter Olympics and Mancuso added two silvers to her gold from Torino, no American alpine skier had ever won more then two career Winter Olympic medals, including Vonn's idol Street or even the great Phil Mahre.

Before the start of the Vancouver Games I asked Mahre, who won slalom gold at the 1984 Sarajevo Games (part of the previous U.S. record of five alpine medals) and silver at the 1980 Lake Placid Games, what he thought of Vonn's chances.

"She has the potential of winning three medals with possibly a fourth – downhill, super-G, combined and slalom," Mahre said before he even knew about her case of shin bang. "Giant slalom will be the one event that holds her back from a five-medal Olympics.

"She started the season off well in the tech events [slalom and GS], but has lost the confidence in her tech skiing over the last several months. She's going to have tremendous pressure in Vancouver, but her confidence going in should be strong enough to override any doubts that enter her thought process."

Mahre made like Nostradamus on that one. A gold and a bronze in hand and a near-miss in the super-combined, Vonn was having a good first giant slalom run in awful weather Feb. 24 when she crashed and broke the pinkie finger on her right hand.

A lot of athletes would have called it a Games at that point, but Vonn gutted it out and raced in the slalom Feb. 26. She skied out early in her first run, but was then a good enough sport to hang out in the finish area to watch Riesch win her second gold medal.

"I'm so happy for her. She did an amazing job," Vonn said of Riesch. "To come down after the first run and really ski as well as she did under these conditions was really cool to watch."

So is seeing an elite athlete with the class and grace to celebrate the accomplishments of a friend. And, surprisingly, class and grace could also be used to describe Miller in Whistler.

There were flashes of the "I ski drunk" Bode who both infuriated and intrigued racing fans in 2006, but mostly he was low-key and reflective. Just don't say he was under the radar. I asked Mahre about Miller heading into the Vancouver Games and here's what he had to say:

"Bode will always be known as one of the greatest skiers to come from the USA. He will forever be popular, especially in Europe. I was talking with someone the other day about the 2006 Torino Games, and they said they couldn't remember a name of a winner of an alpine ski event there but remembered Bode. And it wasn't a good memory, either.

"Winning a medal won't change people's perception of him. His image is what it is. You don't hear much of him these days - no hype, more or less flying under the radar."

I don't know if he was directly responding to Mahre, but at his opening press conference in the Whistler Media Center, Miller had this amusing mini-rant:

"People think coming in under the radar is like being a fighter pilot and actually coming in under the radar when that actually means something," Miller said. "It's a completely ridiculous idea to come in under the radar at the Olympics. Everyone's on the radar here. If one of you guys [in the media] were to come up and race, that might be under the radar.

"I'm ready to race. I was ready to race in Torino. I didn't have a great Olympics, but I've had lots of series of races that went much worse than that. I come in here prepared and fired up. Hopefully it pops up on the radar here and there."

Miller more than popped up. He started with a bronze in the downhill Feb. 15, followed that up with a silver in the super-G Feb. 19 and wrapped things up with his first-ever Olympic gold medal, in the Feb. 21 super combined.

Afterwards, he sounded like a kid again, reveling in the moment and leaving the door open to more racing for the American with the most World Cup wins ever: "I feel good, and when I race like I have been here, it really is amazing, it's just awesome. It's so fun to do and it's so challenging at a level that you just can't find anywhere else. I'd feel pretty stupid to give that up if I could continue."

Miller won't be in Kvitfjell, Norway, this weekend for a World Cup downhill and super-G. He's reportedly still resting up stateside but will rejoin the team for the World Cup Finals in Garmisch the following weekend.

Injuries and all, however, Vonn turned in the third-fastest downhill training run Thursday at Crans Montana, Switzerland. She'll compete in a super-combined race today and downhill and super-G races over the weekend in hopes of distancing herself from Riesch in the hunt for Vonn's third straight World Cup overall title, something no other American has ever accomplished – except for Phil Mahre.


1 Comment on "Miller, Vonn defined by disaster at Torino, redemption at Vancouver"