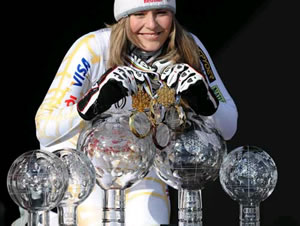 Occasional Vailite (aren't we all?) Lindsey Vonn hopes to add a third overall World Cup globe to her collection starting today in Crans Montana, Switzerland.
Courtesy of the U.S. Ski Team
Blog Tools
Comments
PermaLink
Vonn's greatness makes 'International' incident seem somewhat silly
By David O. Williams
March 6, 2010 — Lindsey Vonn doesn't even have to race to win.

Vonn Friday unofficially clinched the super combined crystal globe awarded for World Cup season discipline titles when a super-combi race in Crans Montana, Switzerland, was called off due to high winds.

Vonn had already clinched the super-G title before last month's Vancouver Winter Olympics because she had more than a 200-point lead with only two super-G races left this season. The maximum her nearest pursuers could earn would be 100 points from each win.

With just six World Cup races left this season (including today's downhill in Crans Montana), Vonn leads friend and rival Maria Riesch of Germany by 137 points in the hunt for the crystal globe that matters the most – the overall World Cup title.

Here are some stats with which to shock an amaze your friends at your next cocktail party:

• If Vonn wins her third straight overall title, she joins the legendary Phil Mahre as the only American ski racer to accomplish that feat. She also ties the likes of Vreni Schneider, Petra Kronberger and Janica Kostelic for second-most all-time overall titles with three. Only Austria's Annemarie Moser-Pröll has more overalls with six.

• With one more World Cup win this season, Vonn will be in sole possession of seventh on the all-time women's winner list with 32 career victories. With two more wins she'll tie Moser-Pröll and Anja Paerson for the second-most single-season wins with 11. Schneider is tops with an incredible 14-win season.

• At age 25, Vonn, a former Ski and Snowboard Club Vail product, is already halfway to Moser-Pröll's once seemingly unattainable career victory record of 62

Originally from Burnsville, Minn., Lindsey Vonn's family moved to Vail in the late 1990s to transform her into one of the most determined athletes I've ever witnessed firsthand. She is the ski-racing equivalent of Tiger Woods in golf or Michael Jordan in basketball.

She's someone who works relentlessly to achieve the loftiest of goals, and then imposes her will in the most critical moments – like on the iced-over and brutal downhill track at last month's Winter Games, where I watched living legends like Paerson crash out while Vonn won gold. And she never shies away from crediting Vail, the mountain and the ski culture, with transforming her into America's most dominant female ski racer of all time.

Suggesting an athlete with credentials like that and such deep ties to the community should not have her name on a prominent ski trail on the front side of Vail Mountain is ludicrous. Vail Resorts last Saturday in Vancouver announced International was being renamed "Lindsey's."

I love the old International run, which often retains powder when no one else thinks to go there, and I watched and covered women's World Cup ski racers there, including the one where Vonn's childhood idol, Picabo Street, blew out here knee crashing off Pepi's Face.

But while International was a fitting tribute to the first international races in Vail, it's a name without much personality. Suggest changing Pepi's Face (aka the Slide For Life) to Lindsey's and I'd have a problem.

I don't disagree that athletes like Toby Dawson, the first Vail product to win an Olympic medal when he claimed bronze in men's moguls at Sauze d'Oulx, Italy, in 2006 - should be considered for a similar honor. Cookshack, for instance, would be a lot more meaningful as "Toby's," but after that the list of deserving athletes gets a lot shorter.

I watched with amazement as Sarah Schleper, a ski racer with arguably much deeper roots than Vonn in the Vail Valley, came back after two seasons off – one for injury and one to have her son Lasse – and skied with passion and purpose at Whistler Creekside last month.

It was Schleper's fourth Olympics, an amazing accomplishment in and of itself, but she didn't medal in any of those Games and claimed "just" one World Cup win in her career. That, too, is a great accomplishment that a lot of ski racers never attain.

Does a career journeywoman who had a long and remarkable career deserve a run in her name? Not for me to say. But clearly Vonn, a transcendent figure in sports - someone with crossover star power who can bring in new recreational skiers and inspire future Olympians - deserves the honor in a highly prominent place.

Her run shouldn't be shunted off to a training track on Golden Peak. It should be right down the front of Vail Mountain. Hell, they renamed Vonn-couver for her for a month, even though some Canadians I talked to weren't too pleased about it.

The least we could do is offer up International.


1 Comment on "Vonn's greatness makes 'International' incident seem somewhat silly"