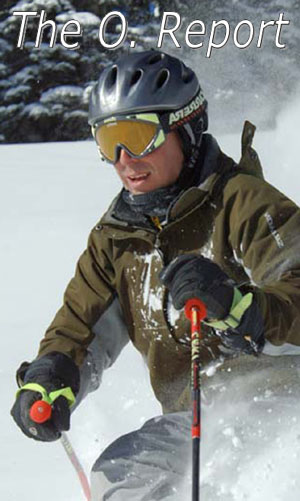 Blog Tools
Comments
PermaLink
Conway Cup, return of Ravinos lights up sunny, spectacular St. Paddy's Day at Vail
By David O. Williams
March 18, 2010 — The bad news is I lost to a telemarker (KZYR deejay "The Weeze" doing nor-pine turns) and a snowboarder in Wednesday's Conway Cup to benefit the family of longtime Vail race crew guru Dan Conway, who died last year.

The good news is I was only six seconds or so off the pace of former U.S. Ski Team members like David Viele, Mike Brown and Tiffany Hoversten.

Actually, the really good news is that a lot of locals turned out to raise money for Conway's family on a shockingly sunny St. Patrick's Day on Golden Peak. And all of those locals reconnected with the American Ski Classic, a venerable charity event featuring celebs and retired ski-racing legends like Franz Klammer, Marc Girardelli and the Mahre twins that continues throughout the weekend.

I showed why I should stick to ski writing not racing after running gates for the first time since getting schooled by golfer Phil Mickelson on a NASTAR course at Beaver Creek several years ago.

It was my first "competitive" foray since Warren Miller's Mad Mountain Marathon back in the mid-90s, and as Steve Lee, another KZYR deejay, pointed out, reporting on the alpine events at last month's Olympics clearly didn't rub off on me in the technique department since then.

By way of one more excuse, I was "racing" on mid-fat K2 Outlaws that haven't been tuned since December. Set up some gates on the crud of Genghis or in the trees of Yonder and I'm in the top 10.

Regardless, it was all about the cause and the event, and it was a pleasure to meet Dan's dad, Vince, with whom I had a great conversation about bike racing – another sport I've written about but in which I've never advanced past beginner class in the town race series.

Speaking of town races, I have to give a shout-out to Franz Fuchsberger, a Vail Town Race Series (and Powder 8) ski-racing legend who was in all his green glory Wednesday, although he did pull a Bode when he hooked the second gate on one of his runs. Good to see Franzi ripping it up.

The other great thing to see on Wednesday was the St. Patrick's Day return of the Ravinos, the free-wheeling denizens of Vail's less-corporate past who formed a sort of motorcycle gang on skis in the 1970s and 80s that required fully inverted aerial maneuvers as a rite of passage.

A few new-school Vailites linked up with some Ravinos from back in the day to quietly celebrate the spirit of Vail's past. The Vail Daily featured the event in Thursday's edition, and it's a great opportunity for me to re-link to a Ravinos profile I did for Powder Magazine a few years back and reposted on RealVail. Enjoy.




Comment on "Conway Cup, return of Ravinos lights up sunny, spectacular St. Paddy's Day at Vail" using the form below