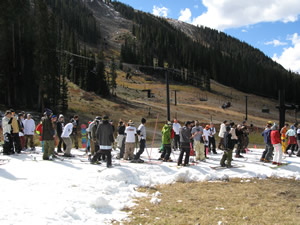 This picture of Arapahoe Basin on opening day of the entire 2007-08 ski season (Oct. 10) hasn't changed much at resorts statewide in the past month. But hope springs eternal.
By David O. Williams
Blog Tools
Comments
PermaLink
Warning, early-season conditions definitely do exist, seem likely to persist
By David O. Williams
November 14, 2007 — And then there were seven. Resorts that is – open for the so-far balmy 07-08 ski season.


You read it here first, though: I am not freaking out. Yes, I'm washing my car, going out without a coat on, neglecting to sift through my stinky ski clothes and properly ready myself for the season – everything in my power to dare Ma Nature to dump on my head.


So far, so dry. A fall that started off with so much snowy promise has turned into an endless Indian summer. I'll be honest, the ski conditions were better a month ago, and yet the calendar says the resorts must open … and so they will.


Winter Park – the ski area of my misspent youth – joins the fray today. The longest continuously operating ski area in Colorado (69 years and counting) cranks up its lifts this morning, thereby churning up memories of my hazy days as a Winter Park Buffalo youth skier (forever convincing me I was destined not to be a ski racer) and later skipping high school to grab random days at adjacent Mary Jane.

Winter Park joins A-Basin, Loveland, Keystone, Copper Mountain, Wolf Creek and Breckenridge as the magnificent seven out of Colorado's 26 ski areas bold enough to call it a ski season. Vail takes the plunge Friday, along with Eldora, followed by Crested Butte on Saturday.


But it will be a Born Free-only opening at Vail, barring some sort of startling weather phenomenon in the next couple of days. A storm that was supposed provide 3-6 inches Monday dropped a little drizzle and another cold front today dusted us with granular snow by 7 a.m. and brought some more cold, which at least helps with snowmaking.


This will be the first season in the past three at Vail to kick off with only the Born Free trail, making us all appreciate the bounty of the past two seasons. But of this we are sure: it will snow again someday, and when it does, we'll all be there with our rock boards at the ready.


In the meantime, construction season rolls on unabated.


Comment on "Warning, early-season conditions definitely do exist, seem likely to persist" using the form below