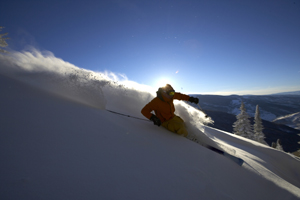 Sunny days, like the one pictured at Vail above, have been rare the past month, but the upcoming week ought to shine like a diamond.
By Jack Affleck/Vail Resorts
Blog Tools
Comments
PermaLink
At long last, sunshine
By Reid Griebling
January 10, 2008 — Good day to all, hope everyone is enjoying the cold, and still very good snow on both resort mountains.


The last ten days have been superb, with almost four feet of snow blanketing Vail and Beaver Creek mountains. The temperatures have also been ideal; mild during the day, and cold at night, keeping the snow pretty much perfect.

We do have another quick shot of snow heading our way tonight (Thurs.) and moving out by Friday afternoon. This storm will surf on the northwest jet stream with limited moisture, but we could see a total of 5-7 inches by Friday p.m. (hopefully). Temps should stay cool during the day and overnight, with daily temps on mountain in the high teens and low 20's.


Night time should see temps drop in the single digits, keeping the snow on the mountain, again, pretty much perfect. The downside is these low temps at night are not too favorable for huge amounts of snow because the dew points can be too low for any heavy moisture to fall, although, stranger things have happened.


As I mentioned, snow totals will be much lower than we have seen in the past 10 days. So itís time to break out the crud busters and enjoy the sunny days that will follow this storm. We should see our next significant storm roll in late next week (about seven days from now), until then, enjoy the snow, sun, and skiing at both Vail and The Beav.



Comment on "At long last, sunshine" using the form below