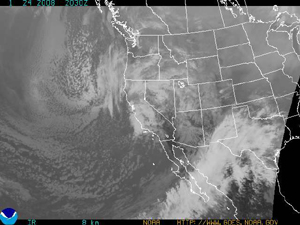 The storm visible above should produce light snow in the Vail area, with light to moderate snow Sunday and Monday.
Courtesy of the National Weather Service
Blog Tools
Comments
PermaLink
Light to moderate snow expected over next few days
By Reid Griebling
January 24, 2008 — Hello powder hounds, good news for those of you drooling for some face shots again: We are again in an unsettled weather pattern that should be dumping some more "white gold" on our valley within the next few days.
Today (Thursday) we should see southwest winds increase later in the afternoon and overnight as a quick storm moves through. This storm will hit the southwest part of the state with moderate to heavy snowfall through the afternoon Friday. Areas like Wolf Creek, Telluride, and Silverton should see 6-10 inches by the end of the day Friday. The central and northern mountains will see little accumulation from this storm (1-4 inches) by late Friday, however, we do have a strong low waiting in the wings.
Saturday should be a great day to ski the Talons Challenge at the Beav', with mild temps (20s on the hill) and mild winds early and increasing as the day goes on. Sunday we will begin to see the barometer fall as a low pressure system moves into the Great Basin.
The jet stream looks favorable (heading due west to east) for our area and we should see increased moisture with this system. Sunday and Monday both look active with light to moderate snow both days. Winds will be strong on Sunday as the low moves through, winds in excess of 60 mph at tree line should be expected.
Monday snow will stick around most of the day with snow totals ranging from 5-10 inches at both resorts. Tuesday should be the day to ski as the skies will clear with colder temps and fresh snow (4-7 inches). This next system will not be as cold as previous storms but we will see temps drop all three days (Sun-Tue). Expect temps to be in the teens during the day on the hill and single digits overnight. We will keep our fingers crossed for another bluebird powder day on Tuesday.
Also, here is a link that I find helpful for weather watching days in advance: http://www.atmos.washington.edu/~ovens/loops/wxloop.cgi?fronts_ir+/48h/
Happy skiing...

Comment on "Light to moderate snow expected over next few days" using the form below