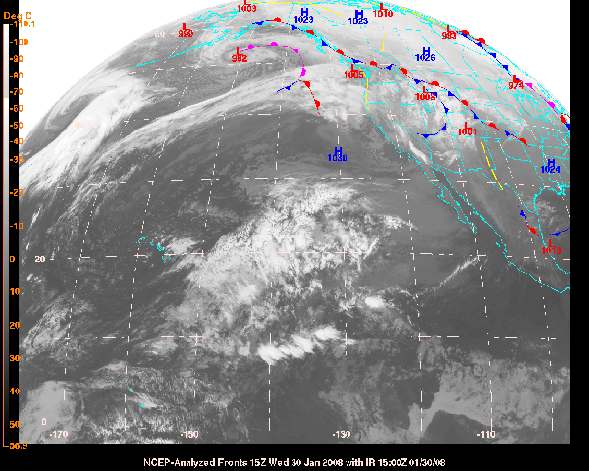 Large systems from the northwest and southwest are set to collide over Colorado during the next five or so days.
Courtesy of the National Weather Service
Blog Tools
Comments
PermaLink
Over 20 inches of snow in five-day forecast
By Reid Griebling
January 30, 2008 — Unstable weather will be with us for the next five days as we are in line with a N.W. jet stream and an active Pacific/Alaskan storm pattern. We see snow showers ending tonight (Wednesday) and a very cold Thursday with partly cloudy skies. This is short lived as we then receive our next shot at accumulating snow beginning Thursday evening and continuing into Friday.


Accumulations should range anywhere from 4-8 inches by Friday morning at both Vail and the Beav'. Another system moves in right on the heels Friday midday with more snow for the resorts along I-70.


Saturday and Sunday look to be the same as the wave of weather ends by Monday afternoon. All in all this is what we love to see in the mountains; quick shots of moderate accumulating snow to fill in the tracks that we skied the day before. With cold fronts stacking up one after another, we should see the temps each day in the teens on the hill. Temperatures will drop into the single digits overnight, along with gusty winds as front after front moves through. Wind chills will be cold (-15 to -5). By Tuesday morning we could see five day totals ranging anywhere from 22-36 inches.

Daily totals should range from 3-7 each day, with locally higher amounts on N.W. facing slopes. Keep in mind that the wind will move the snow around, so we could very well see pockets of deep snow followed by sheer ice. We will keep watch as the week moves on, but for now, it looks like we are in a snow-riders Heaven for the remainder of the week. What a way to start out the beginning of February.

2 Comments on "Over 20 inches of snow in five-day forecast"