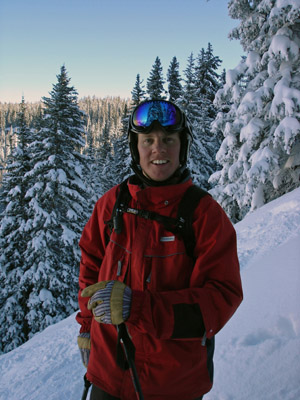 Blog Tools
Comments
PermaLink
A thunder snowstorm could be on its way
By Reid Griebling
February 3, 2008 — Good day to all, hope all of you locals have had the chance to ski these last few days: it's been great.



Vail has already seen 19 inches in the last 72 hours.
And if that's not enough, the N.W.S. has posted a "snow and blowing snow advisory" for our area until Monday evening. The forecast for the next 48-72

hours looks promising for more powder days.
As of this morning Vail reported 3 inches in the last 24 hours and the Beav' reported five. A slow moving and wet storm system looms to our west, with showers beginning after the noon hour. Utah is seeing a good amount of snow, (Brighton 12 inches and Deer Valley 10). So we can expect a good dumping of snow.
This system will impact the S.W. before moving north into our area, and finally hitting Steamboat. As I said, this storm seems to be moving slower than what we have seen the last few days, so the duration of moderate snowfall should last well into Monday evening.
Temperatures will remain cold for most of the region, ranging from single digits on the mountain during the day and just below freezing overnight. Winds will increase as the low passes through, most likely this evening.
We could see gusts in the 40 mph range at times, with N.W. winds in the 20 mph range. The forecast from earlier in the week looks correct as we should see snowfall from this storm over a foot by Tuesday morning.
Also, Vail Ski Patrol's weather hot-line (970) 479-4652 reports that we could also see some THUNDER with this system as it moves through. It will be interesting to watch this storm progress over the next 24 hours, as thunder snow showers can bring large amounts of snow in a very short time (an inch per hour is possible).
Enjoy the snow over the next couple of days, it should be another great start to the week for those lucky enough to have weekdays off.

Happy snow-riding!

Comment on "A thunder snowstorm could be on its way" using the form below