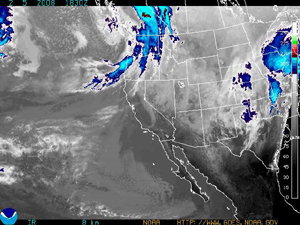 More moisture is headed our way as this satellite image shows.
Courtesy of the National Weather Service
Blog Tools
Comments
PermaLink
A quick break, then more snow
By Reid Griebling
February 5, 2008 — A short lived break in the weather is upon us today (Tuesday) as we see sunny skies and cold temperatures.
The past week of storms left us with great amounts of snow, ranging anywhere from 25-30 inches between Vail and the Beaví.
If you have not been on the mountain lately, get up there, it is great. Tracks are filled through and the tree skiing is outstanding. For our future we see a quick blast of snow move in from the northwest starting Wednesday afternoon and hanging around through the night-time hours. Forecasters are not looking for big accumulation out of this storm, (3-6 inches by Thursday) however, I believe we will see a bit more than that because of the wind.
We should see increasing winds with this system which should increase our chance for oragraphic snow showers through Thursday, ending by the evening. Temperatures will remain fairly mild as this system pushes east on Wednesday, with highs in the low 20ís and lows in the single digits. Winds will increase Wednesday afternoon from the N.W. and range anywhere from 15-20 mph, with gusts in the 30ís. This storm moves out by Thursday leaving us with partly cloudy skies and cooler temps. We have another shot of snow on Friday from the same origin (northwest), with light accumulation fore-casted. By Thursday morning we should see morning totals from 4-7 inches at Vail and 2-5 at the Beaví.
We do have a chance of picking up another 2-4 inches during the day Thursday, if the winds stay active and there is enough left over moisture, we will watch. Friday, as I said, doesnít seem to be much of a news maker (1-3 inches total), however, stranger things have happened. As a side note, with all of the snow we have seen this past week, the avalanche danger in the back-country is an issue. According to the Colorado Avalanche Information Center (CAIC) the avalanche danger in our area is "considerable" on all aspects. Please make wise decisions if you plan to travel outside of the ski area boundary.
Ski Patrol Hot lines: Vail (970) 479-4652 Beaver Creek (970) 845-6652. Again, these are updated everyday at 8 a.m. I have posted a link below. Happy snow-riding!

3 Comments on "A quick break, then more snow"