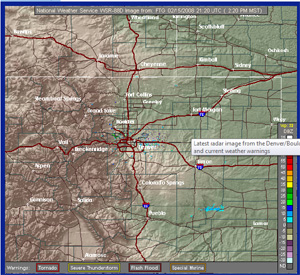 Very little precipitation is expected throughout Colorado this weekend, which means sunny skies and spring-skiing type conditions in the mountains.
Courtesy of the National Weather Service
Blog Tools
Comments
PermaLink
Vail's President's Day weekend should be sunny
By Reid Griebling
February 15, 2008 — Hello all, and happy Presidents holiday.
I know many of you come to the valley annually this holiday weekend, and though we will not see any snow, it should be a great weekend.
We do have a slight chance for showers Saturday night and Sunday morning, but I wouldn't bet on it. The good news is, the temperatures will be perfect for February skiing. All weekend long we should see daytime temps in the mid 20's to the low thirties.
Overnight temps will be mild, ranging from the single digits into the teens. With the warm temps and abundant sunshine, we should see why Vail's "Legendary Back Bowls" are so legendary. After the noon hour everyday, the snow should soften a bit and give us some of that spring time mashed potato style skiing, making runs like Forever, Ricky's Ridge, and The Slot great.
If you are an early riser and like to get first chair, I would recommend finding a grooming report at the base of the area and stick to the groomers until the temps warm.
A couple of reminders for all of the snow-riders: Please be aware that this is a VERY busy weekend, a lot of people will be enjoying the snow, so please be careful and giver your fellow snow-riders plenty of room, also, please wear sunscreen, LOTS. As we like to say in the mountains, "Don't die, reapply."
Have a great weekend.

Comment on "Vail's President's Day weekend should be sunny" using the form below