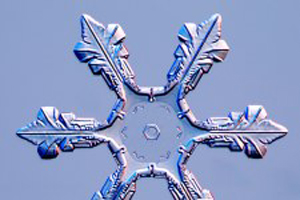 Snowflakes will form differently depending on the moisture levels, which were relatively high in our last snowstorm.
Blog Tools
Comments
PermaLink
Snow, now wetter, should continue
By Reid Griebling
February 26, 2008 — Another round of snow will impact our area moving in from the northwest later today, Feb. 25, and remaining through the night. Gusty winds will again be arriving just before the low pressure system with winds in the 20-30 mph range over the ridge tops and gusts into the 40s. This weak system is the second half of the storm that dropped good amounts of snow on us last night (Feb. 24).


There is another good chance of accumulating snow with this system as we see good amounts of moisture, cooler temps (teens-low 20s), and favorable winds that should enhance orographic lift, also known as the "toilet bowl" affect by some locals.


Forecasters are calling for 4-6 inches to fall overnight, and with the windy conditions we should see most of the tracks from today (Feb. 25) fill up. I think we could see a bit more, anywhere from 5-10 inches, again, by the morning of Feb. 26.


Both Vail and Beaver Creek ski patrol reported good amounts of snow this morning with Vail adding 10 inches and the Beav' with 9 inches. Both areas also reported snow density at 10 percent, pretty wet for our area, typically we will see snow density in the 5-8 percent range.

Moving into the month of March, with only 49 days on the ski calender as of today, we will begin to see very different weather. We might see three days of 40 degree temps, and suddenly watch a cold front move in and drop 12 inches of snow.


Remember, March is annually one of our wettest months. With that in mind, we will begin to see different types of snow fall on the ground. The most common "springish" type of snow we will see is graupel, also known as soft hail. This type of snow will usually precede a cold storm after days of warm weather.


Graupel is associated with warm temperatures at the surface and cooling temps in the air masses above. I have listed a link below that has charts and some interesting info on all types of snow that falls from the sky. As I mentioned, we are in the season of varying temperatures and storm patterns, so we will see many types of these snow forms falling within the next month.


Check out this cool link to snowflake shapes and types: Caltech.edu/snowcrystals


Happy powder days, don't forget to smile!


1 Comment on "Snow, now wetter, should continue"