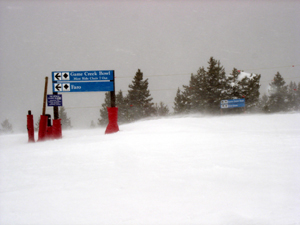 This photo (and the one below, too) show just how windy it was March 3 at Vail, with gusts of up to 67 mph. Warm weather has since taken the leading role, though more wind is expected Thursday.
Photo by Reid Griebling
Blog Tools
Comments
PermaLink
With warm weather, a bit of wind, try sunny Arrowhead and Bachelor Gulch
By Reid Griebling
March 11, 2008 — Good day to all, hope the last two weeks have treated you well. I know it was great for the "Vail Snob" http://www.realvail.com/CenteroftheUniverse/ (nice photo).


Our weather has been spring-like through the first part of March, and should continue.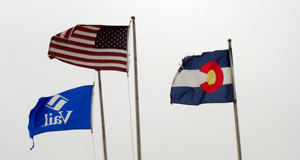 Wind gusts in the 20-30 mph range, with gusts up to 50 mph, are expected Thursday – not quite as powerful as the winds shown above, which whipped the flags on Vail Mountain with gusts up to 67 mph.

We can expect to see more quick storms cycles move through the area, with warming temps directly following.
Our next cold front moves in Wednesday (March 12) evening bringing light accumulation. The good news is that this storm does have all of the ingredients to drop another 4-6 inches by Thursday afternoon as the bulk of the energy passes over during the day Thursday.
Temperatures will range from the low 30s at the base, and high teens on the mountain through the weekend at both Vail and the Beav'. Winds will be light Wednesday during the day increasing overnight.
Thursday winds will be in the 20-30 mph range from the W/NW, with gusts into the 50s at the ridge tops.
Winds will move to the southwest Friday and Saturday which should keep temps mild.
The overall outlook for the remainder of March looks favorable for those who have not had their fill of powder days. Unsettled weather should stay with us through March, increasing chances of snow.
Also, now is the time to venture over to Arrowhead and Bachelor Gulch, with warm temperatures and soft snow, the skiing is great, and they also have some great après music at the Broken Arrow this time of year.
And did I mention the parking is FREE!
Happy snow-riding

Comment on "With warm weather, a bit of wind, try sunny Arrowhead and Bachelor Gulch" using the form below