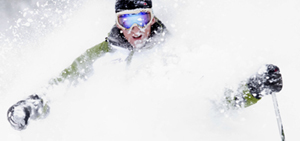 After a few weeks of relatively warm weather, face shots will once again be there for the taking on Vail Mountain March 13.
Photo courtesy Jack Affleck/Vail Resorts
Blog Tools
Comments
PermaLink
'Memorable storm' on the way
Plus: future World Cup racers come to Vail this weekend
By Reid Griebling
March 13, 2008 — An urgent update for you powder hounds out there: If you have not already heard, a winter storm warning is in effect for our region beginning this evening at 6 p.m. until Friday 6 p.m. This could be a memorable storm, with estimated accumulations ranging from 8-12 inches overnight Thursday and an additional 4-7 during the day Friday.


A moisture-packed Pacific system will bring moderate winds and colder weather this evening with the bulk of the snow falling overnight. Winds will range from 20-30 mph overnight from the W/NW, with gusts in the 40s.
Temperatures will be cold with highs on mountain in the single digits on Friday.
Winter is still with us folks, and as records show, this storm will reconfirm that March is one of our wettest months annually. I believe that forecasters are correct in their accumulation totals, dynamics look good with this storm as temps are cool prior to the storm arriving, and there is ample amounts of moisture in the upper atmosphere. Should be a great way to start the weekend.
Speaking of the weekend, rumor has it that this could be the busiest March weekend in history. With that said, please be aware of your surroundings on the mountain as there will be a lot of people, please give your fellow snow-riders respect and room.
Finally, the Junior Olympics (J.O.'s) will be finishing on Sunday, if you have a chance, head over to Golden Peak and catch some of the action. These are our future World Cup and Olympic racers competing, show them your support.
Happy snow-riding, and keep your fingers crossed for yet ANOTHER powder day (sorry Dave O.!)

Comment on "'Memorable storm' on the way" using the form below