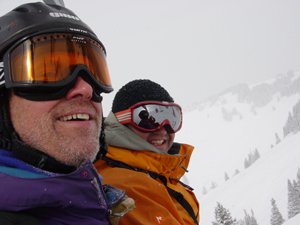 Laps through Chair 5 were quick and clean, which was A-OK with Dr. John Bell and Mariano Rodriguez, of Argentina, both of whom joined me on one of the best days of the year this past weekend.
Photo by Reid Griebling
Blog Tools
Comments
PermaLink
One of the great things about skiing alone: meeting new people
By Reid Griebling
March 18, 2008 — Happy day-after-St. Patrick's Day, hope all is well. We had a great weekend in the Vail Valley weather wise, with a total of 15 inches on the ground by Saturday morning.
Sunny skies graced a very busy Vail Mountain on Saturday as people rubbernecked their way through the Frisco area (thanks for the video, Tom) and enjoyed Vail and Beaver Creek's white gold. I was lucky enough to ski Vail on Friday, nine inches of dense snow saw an empty mountain during the morning, and as I was playing hooky, I was again a solo rider.
Dr. John Bell, a general practitioner from Colorado Springs, and Mariano Rodriguez, a private ski school instructor, and founder of mendozaholidays.com on vacation from Argentina, were my lift mates on Chair 5 after my first run down Ricky's Gully. We all agreed that the snow on Friday was choice, we couldn't seem to find anything that was tracked up (not a bad thing).
Mariano was on a 24-day holiday in the States, spending 14 in Vail and the rest with some friends in Lake Tahoe, a ski bum from the other hemisphere who skis 50-60 days a year at his home resort of Las Lenas (lucky).
Dr. Bell had made plans with a fellow M.D. to ski Friday through Sunday, who forgot to clear his schedule, OOPS! leaving him solo for the day as well.
As it was Mariano's first day back in his boots since October, and first time ever in Vail, Dr. John and I decided to show Mariano a little bit of the legendary Back Bowls, taking him through gate two of Windows.
The snow was deep, dense, and delightful, although we could still hear the firmness underneath.
Surprisingly, the lift line at chair 5 was again, non-existent, which made for quick laps, tiring this blogger out by noon. (Thanks for the skiing guys).
Check out Mariano's web site at mendozaholidays.com.
OK, now on to the weather report: This week looks a bit unsettled with a chance for snow showers each day. However, models show an unfavorable jet stream, and only weak disturbances passing through. I don't think we can expect any accumulating snowfall this week, although we might see a few showers here and there.
Temps will be mild with highs "on mountain" in the 20s and mid 30s at the base. This should be consistent throughout the week. Winds will be light and variable, with gusty conditions as the few disturbances pass by.
All in all it looks like a great weekend of skiing for our guests, with mild temps and good visibility. We will keep watch as the week progresses.
Happy snow-riding.

1 Comment on "One of the great things about skiing alone: meeting new people"