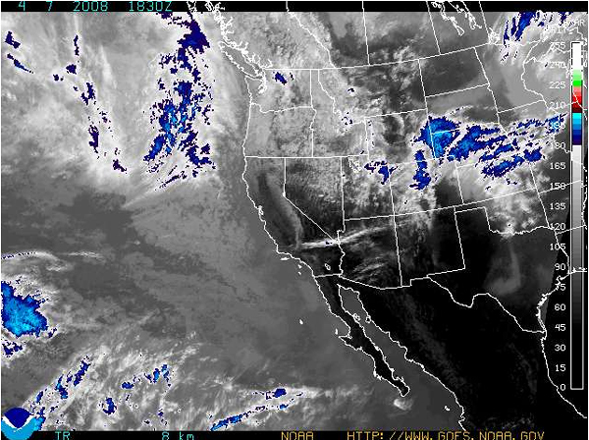 More snow is expected through the week, most likely bringing Vail and Beaver Creek's snow totals to record highs.
Map courtesey of the National Weather Service
Blog Tools
Comments
PermaLink
The 'Year of Big Snow' continues at Vail and Beaver Creek
By Reid Griebling
April 7, 2008 — Snow is falling as I write at both Vail and the Beav', with moisture continuing well into the evening.


Vail reported three inches this morning (April 7) and it looks like we could have another powder day on April 8. Look for at least another 3-4 inches overnight.
As for the rest of the week there are cold storms lined up in the Gulf of Alaska, each heading our way. Tuesday looks clear with cooler temps; 15-25 on mountain with winds gusting in the 20s. Our next storm arrives Wednesday during the day and will continue through the day Thursday.
We could see significant snowfall (8-12 inches) out of this system with heavy snow due to good moisture, convection (rise and fall of heat and moisture), and a very unstable atmosphere.
Temperatures will range from the low teens to low 20s both Wednesday and Thursday with winds in the teens and twenties and gusts into the 30 mph range.
With the instability there is also a good chance that thunder will develop, creating HEAVY snow showers at times. Keep in mind that with thunder comes lightning, and both resorts will close lifts if the threat is near.
Friday looks mostly cloudy as the previous system moves east, and temps will warm as the day progresses.
Finally, the closing weekend may be the only weekend of this '07-'08 season that we may actually see some good spring skiing. Both Saturday and Sunday look mostly sunny with light winds and temps in the low to mid 30s on the hill. We will watch as the week progresses.

2 Comments on "The 'Year of Big Snow' continues at Vail and Beaver Creek"