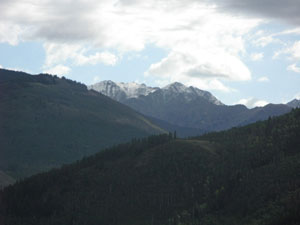 RealVail's first prediction of a big snow year came Aug. 24, when we had the first snow of the year. Others, including the National Weather Service, predicted a below-average year.
Photo by David O. Williams
Blog Tools
Comments
PermaLink
Vail has "Epic" year: a review of one of the great seasons in memory
By Reid Griebling
April 16, 2008 — Webster's Dictionary defines epic as, "extending beyond the usual or ordinary especially in size or scope." This has definitely been an Epic year, so here's a few reasons why.
THE EPIC BLUNDER:

In that case, we saw an epic blunder come from the climatologists at C.U. Boulder, when they predicted this season as being one of the driest on record. One man was even quoted saying he wasn't going to bother buying a ski pass.
I bet he did after the New Year.
We at RealVail, however, called for a big snow year in 2007-2008 (as can be verified by clicking here, to read where Boyd called for, "A banner snow year.").
OK, so enough honking of our own horn, let's get back to task at hand.
EPIC SNOW, EPIC SPRING:

With Vail receiving over 450 inches of snow by closing day, powder days turned into powder weeks, and the last week of the season brought more that 20 inches of January-type snow.
The long term forecast for the rest of April and into May looks to be the same: unsettled.
We could see snow/rain showers all the way into the middle of May, great news for you "river rats".
Temps will, of course, increase as the weeks go on, but with all of the snow pack at the highest elevations, rafters and kayakers could be surfing the Eagle and Upper-C well into the summer months.
EPIC ROAD CLOSURES:

An "epic" number of road closures were also seen this year as I-70 from Vail to Denver closed numerous times, stranding drivers in cars and shelters, and tragically some lost their lives. It's another reason to think very seriously about our famed corridor, and the future of more traffic in the high country.
EPIC PARKING:

An "epic"parking problem pestered pedestrians and skiers alike as the North Frontage Road seemed to be full every weekend and powder day. And it seems that it will only get worse as; you guessed it, the "Epic Pass" will bring in more skiers to Vail and the Beav'.
Although the Generals at V.R.I. seem to think that the crowds will now be spread out over many weeks instead of the popular holidays, many locals agree that the 2008-09 season may well be our busiest season in history.
EPIC EYE-OPENER:

January, 2008 brought with it an "epic" eyeopener to all snow-riders. Two men lost their lives in the back country of Vail known as the East Vail chutes. The accidents, only two weeks apart, reminded us that we are always at the wrath of Mother Nature, and that complacency in uncontrolled areas can be fatal.
EPIC SNOW PART II:

Of course the most "epic" topic of the season was the snow. As stated before, Vail received over 450 inches of snow, and after a delayed start to the season, by early January many of us had already skied 10 plus powder days. And it didn't stop snowing until the 11th of April, leaving us with one festive weekend of spring skiing.
As for the next season, we have to wait until October to see what kind of weather patterns are consistent, and of course we will be watching our buddy El Nino out in the Pacific Ocean.
EPIC GLOBAL WARMING:

Also, regarding the whole global warming issue, if we can have winters like we did in 2008, everyone should be driving H3's, and SUV's.
EPIC GOLF:

Just because the powder is gone, "Powder Predictor" will not be. I'll just be changing my M.O.
I will be writing blogs about the many golf courses around the valley and what they have to offer. Until then, have a great Mud season and happy spring.

Comment on "Vail has "Epic" year: a review of one of the great seasons in memory" using the form below