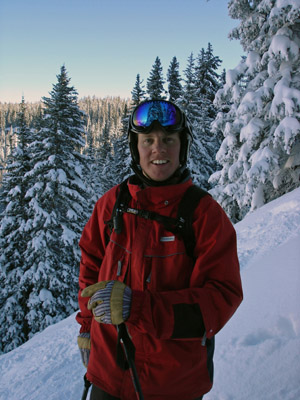 The Powder Predictor, Reid Griebling, is predicting some good snow in the coming weeks leading up to Vail's opening day.
Photo of Reid Griebling
Blog Tools
Comments
PermaLink
Let it snow! Snow is piling up.
By Reid Griebling
November 13, 2008 — Less than eight days until Vail Mountain opens and as the "O. Report" stated, snow is piling up.

Snow guns have been blowing since the first of the month and short term forecasts show another active storm moving in from the N.W. today (Thurs) and tonight. As of now the skies are partly cloudy and a west wind is blowing from 10-15 mph and gusting into the 30's. Temps are warm ranging from 35-45 degrees in the valleys. Pressure is falling in wake of this next storm which is expected to dump 5-10 inches at the highest elevations (10,000 ft.) by Friday afternoon.

In the valleys we will see a mix of rain and snow throughout the day on Thursday and changing to snow by the early hours Friday, with little accumulation expected. This may be our last chance for significant snowfall as long term models show that a ridge of high pressure will build in from the east by the weekend. It is unclear how long we will be under high pressure but the gang at www.snowforecast.com see clear weather staying around 5-7 days. This means that opening day at Vail should be clear and sunny day.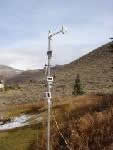 The Powder Predictor's personal weather station in his back yard in Edwards.

Everyone in the Vail Valley is geared up for another great season, and as much as this forecaster wants another season like 07-08 (for Dave's sake), climatologists and the trusty Farmers Almanac are calling for an average winter for the Rocky Mountain region (Utah, Colorado, Wyoming, Montana). This is a good sign for us as we do average around 300 inches of snow in Vail. Temps will be slightly warmer than average and snowfall will as stated will be average. We may not see a season like last year, but I believe we will all have a fair share of good powder days.

Good news for those of you who visit our site regularly, I have erected a personal weather station in my back yard in Edwards. At 7680 feet, we will have an idea as to how much snow has fallen at the base of Vail and Beaver Creek and by opening day, we should have a link through our site that will give everyone real-time weather figures as they are in Edwards. Overall with a declining economy and waiting for the new hope for American politics, what better thing is there to do than watch the early season snow fall?

Comment on "Let it snow! Snow is piling up." using the form below