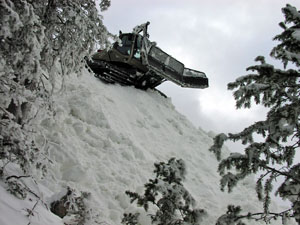 A winch snowcat prepared the Birds of Prey World Cup course recently at Beaver Creek. Vail opened Nov. 21 and Beaver Creek opens Nov. 26, just ahead of a big storm which may come through Vail on Thanksgiving weekend.
Photo courtesy Vail Resorts
Blog Tools
Comments
PermaLink
Vail opening day, white Thanksgiving may be on the way
By Reid Griebling
November 21, 2008 — It's November 21st and the start of the 08-09 ski season is finally here.

I'm sure Dave O didn't sleep a wink of sleep, tuning and waxing his skis until all hours of the night. And to kick it off I actually played golf yesterday. Not sure if that is a good thing or not.

As Vail has one of 193 runs open, many skiers are pining for more snow and less Indian summer weather. We are in luck as the storm axis that has been bombarding the Midwest and East Coast with snow, rain, wind, and cold temps moves westward bringing with it unsettled weather starting next week.

This weekend we will see more of the same (warm and dry) with daytime temps in the mid to upper 30's and overnight lows in the low 20s. Wednesday we will start to see the shift in weather as numerous storms line up in the Gulf of Alaska with a northwest flow aloft bringing cold temps along with active weather.

It could very well be a white Thanksgiving for the mountain areas as we will hopefully be in an active pattern for months to come. We will watch.

I have a bit of sour information for the few of you that are weather nerds like me, and are waiting for my weather station to come online. I am having a bit of hardware trouble with my station: broken disks, wrong wires, stuff like that. I hope to have these problems fixed by next week, sorry for the delay.

In the meantime, if you are going to brave the "White Ribbon of Death" please be aware of the snow riders around you. Nothing is worse than ruining your whole season on the first couple of says skiing. Have fun and remember, if you're lucky enough to be in the mountains, you're lucky enough.


2 Comments on "Vail opening day, white Thanksgiving may be on the way"