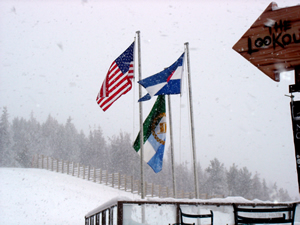 Vail pounded by 30 inches in a 36 hour period allowing Vail to open chairs 2, 3, and 4 on Saturday
Chairs 7 and 11 expected to open this Wednesday
By Reid Griebling
December 1, 2008 — An active Thanksgiving weekend came to a close with snow showers lingering into the early morning hours on Monday. Vail received 30 inches in a 36 hour period while The Beav' reported 24 inches as a fore-casted weak system grew into a monster overnight Friday.

Strong N.W. winds brought blowing and drifting snow to mountain passes and closed I-70 for periods on Saturday and Sunday. A welcome site as 60 degree temps were the norm just 7 days ago.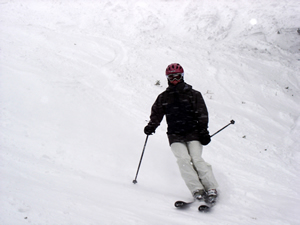 Some of the first tracks this 2008-09 Vail Ski Season. Reid's neighbor Karen is pictured above.

I was lucky enough to ski on Sunday with my neighbors Tom and Karen, and although it was quite breezy and cold, it was nice to be on skis again.

Vail opened chairs 2, 3, and 4 Saturday and the coverage was nice, according to the crew at the Wildwood outpost, the tentative date for opening chair 7 and 11 is set for Wednesday. Today we saw clearing skies and warm temps as a weak high pressure ridge is building in from the west.

Tuesday night into Wednesday we should see some more snowfall as another system moves into our area from the N.W. Snowfall should range anywhere from 5-7 inches by Wednesday.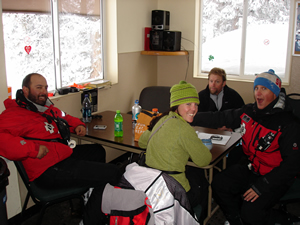 Gathered in a ski patrol hut at Wildwood on Vail Mountain

The weather should be great for the upcoming Birds of Prey ski races this weekend, with mild temps and variable winds. As of now it looks like we will be an a fairly active weather pattern for the next 7-10 days.
Sunday we have another chance for snow as well. We will keep watch.

3 Comments on "Vail pounded by 30 inches in a 36 hour period allowing Vail to open chairs 2, 3, and 4 on Saturday"