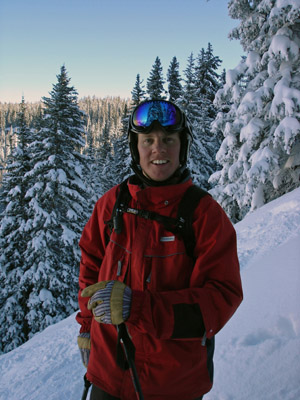 Reid Griebling staying on track of the Vail Valley's weather. Regrettably the weather station is down and won't be up until the new year. But look to the left for the latest snow report from Vail Mountain.
Photo courtesy of Mr. Griebling
Blog Tools
Comments
PermaLink
Weather station down, but winter advisory in effect for Vail Valley
By Reid Griebling
December 8, 2008 — Another low pressure system will quickly pass through the Western Slope today (Mon) and move out Tuesday morning. We are under a winter storm advisory until Tuesday morning. Average temps will precede this storm (mid 20's) which looks to hit the Gore Range around 1:00 p.m. local time.

As this front moves through temps will drop into the low teens and remain cold through Tuesday. N.W. winds will increase as Monday moves on with wind speeds in the low to mid 20's and gusts in the 30 mph range. Forecasters are calling for 4-8 inches by Tuesday's morning report, however, this storm is riding the under belly of another front in the Wyoming area, which means we could see limited snow totals (2-5inches) in our area depending on the wind and dynamics of both low pressure systems.

I have some bad news about the weather station, I might have to send the whole system back and get a new one, which means no weather link until the new year, BUMMER! But the bright side is we are going to see the weather axis finally shift to the west, bringing unsettled weather for the remainder of the month. The rest of our week looks promising with another quick storm moving through Thursday and our first "Big One" of the year possibly moving in this weekend.

Finally, our esteemed computer guru Kent Van Fleet has built a snow report for Vail and Beaver Creek on the left hand side of this site. Giving snow totals, lift info and acreage of open terrain.

Comment on "Weather station down, but winter advisory in effect for Vail Valley" using the form below