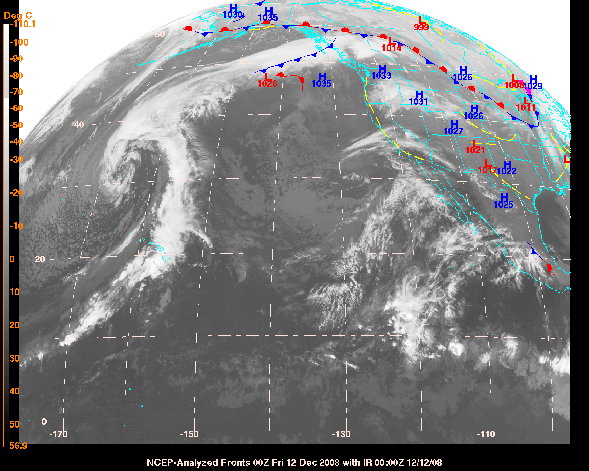 Here is a weather image from U.W. in Seattle, our big system is gaining power just north of Hawaii and moisture is spilling into the southwest from the Gulf of California.
Courtesy NWS
Blog Tools
Comments
PermaLink
Big snow may hit Vail this weekend
By Reid Griebling
December 11, 2008 — A false alarm for the forecasted quick storm that was supposed to wisp through Colorado today (Dec. 11) as the ridge of high pressure was to strong to allow N.W. winds to move in.

This weekend is looking promising for our first significant storm to move into the Rockies.

As of now we are looking at a cold front moving in from the N.W. on Saturday, combining with gulf moisture from the southwest. Quite often these are storms that can produce heavy amounts of snowfall in a short amount of time if the dynamics (wind, dew points, temps.) can all come together.

The jet stream looks favorable as models show that it should be bringing in cold air from Canada and move due west by this Sunday.

Right now the storm looks to last at least three days starting Saturday and ending early Tuesday morning.

With this cold front we will see temperatures drop dramatically Saturday night and continue through mid week. We will keep watch and give snow total predictions as this system moves closer.


1 Comment on "Big snow may hit Vail this weekend"