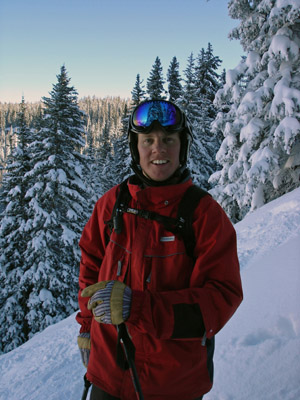 Blog Tools
Comments
PermaLink
New snow covers bare spots and causes in-bounds avalanche on Vail Mountain
By Reid Griebling
December 15, 2008 — A foot of 8.5% density snow fell on Vail over Saturday night and into Sunday, The Beav' received 14 inches respectively. A perfect dump to cover all of the bare spots, although tough to ski in, I skied with my wife Regina as it was our second wedding anniversary. We only got 4 runs in, I had binding issues, bummer. But it was just what we needed to get the holiday season started.

And round two and three are just around the corner. We will begin to see temps rise by tomorrow (thankfully) as our next weather system moves in from the S.W. This next storm is strong but will affect the Four Corners area more so than the I-70 corridor, bringing with it warmer temps and lots of moisture. The San Juan Mountains are under a Winter Storm Warning and are looking to get another 1-2 feet by Wed. afternoon. We should see snow totals in the 8-13 inch range by Wednesday if this storm doesn't get held up by the San Juan and Sawatch Ranges.

Temps will increase by Tuesday with highs in the mid 20's and lows in the teens overnight. Winds will increase from the S.W. tonight with winds gusts in the 25-30 mph. Round three looks to be shaping up for the weekend with another low pressure system moving into the area. We will keep watch.

Finally. WARNING!!! The National Weather Service has issued an AVALANCHE WARNING for the San Juan Mountains and the Elk and West Elk ranges in central Colorado. Vail and The Beav' are covered in this area. Sources on Vail Mountain reported an in-bounds slide around 11:00 a.m. in Blue Sky Basin on the Lover's Leap trail. Three men involved, one man buried to his waist and the other two dug him out. The slide crown (top) was 150 ft long and the slide moved 150 ft down the fall line. The snow slid all the way to the ground. The area was bombed earlier in the day and was considered safe. Luckily no one was hurt.

Please take notice to these warnings and if you plan on skiing in the back country use proper equipment and route finding.

Enjoy the snow.


Comment on "New snow covers bare spots and causes in-bounds avalanche on Vail Mountain" using the form below