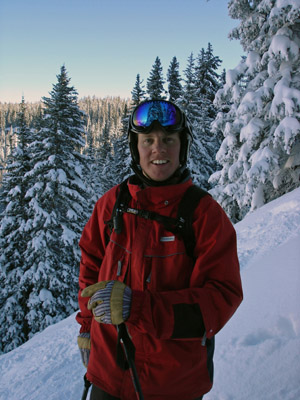 Blog Tools
Comments
PermaLink
More snow to cover Vail, Beaver Creek before Christmas
By Reid Griebling
December 17, 2008 — There's been 10 inches new at Vail in the past 24 hours and 11 new at The Beav'. Wolf Creek saw another 17 inches last night to add on to their epic week of snow.

As of this morning we are under a WINTER STORM WARNING until Thursday afternoon as a moist S.W. flow will bring more snow to the region. Areas in the southwest (Durango, Telluride, Sliverton...) will see the brunt of the action as numerous little disturbances move through Colorado today and tomorrow bringing unstable air masses and breezy conditions.

Temperatures will be mild per say as highs will be in the upper teens and low 20s and lows will dip into single digits overnight. As I write, the temperature in Edwards is 15 degrees, with 80 percent humidity and a dew point right around 10 degrees, calm winds, and steady pressure. Our forecast for the next 36 hours looks promising as light to moderate snow will begin to fall by afternoon and last well into Thursday.

We could see anywhere from 8-14 inches by late Thursday at Vail and The Beav' with larger amounts on S.W. facing slopes, favoring Beaver Creek. Winds will increase from the S.W. today, with speeds in the teens to mid-20s and gusts into the 40s. Our five-day forecast looks promising as we will see snow through Sunday, before a break in the action just before Christmas. Enjoy!


Comment on "More snow to cover Vail, Beaver Creek before Christmas" using the form below