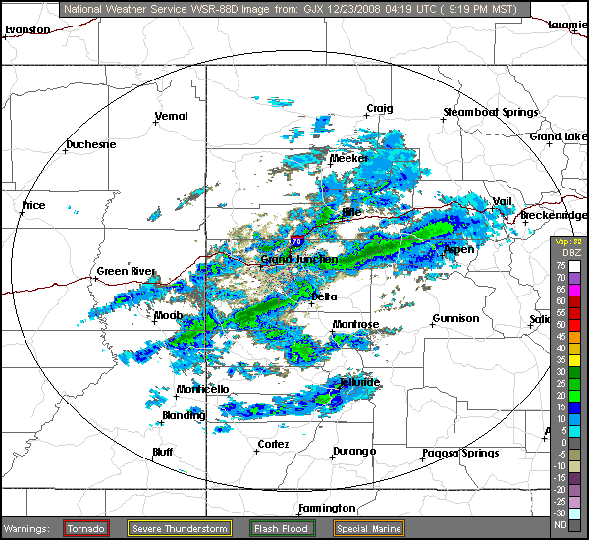 National Weather Service radar image from Grand Junction shows a favorable S.W. flow heading right for the Aspen and Vail areas.
National Weather Service
Blog Tools
Comments
PermaLink
Vail weather should be white for Christmas
By Reid Griebling
December 22, 2008 — Once again, Vail and Beaver Creek are under a WINTER STORM WARNING and are victim to over a billion stellar dendrites (snowflakes) as I write on the evening of Dec. 21.

A southwest flow is blessing us with another round of heavy snowfall that will stay with is through Dec. 22. Right now at 8,100 feet the temperature is holding steady at 25 degrees, the dew point is at a pleasant 22 degrees, and the relative humidity is at 85 percent, giving us great dynamics for good snowfall.

Pressure is steady at 29.60 inches and winds are light from the west with a few gusts in the teens. It looks to be another great day on the hill Tuesday morning.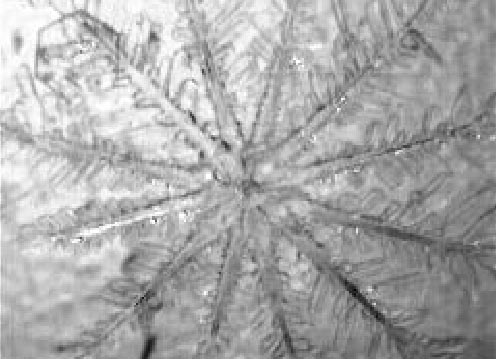 A photo of a stellar dendrite snowflake, millions of these piles onto one another equals happiness for snow-riders.

On-mountain temps for Tuesday's powder day will be mild, the third day of winter brings with it highs in the high teens and winds from the N.W. ranging from 10-15 mph. Expect good snowfall totals for the morning report ranging from 6-10 inches, as we have a good stream of moisture coming in from the southwest (favoring The Beav'), good news for those of you who make it to Blue Sky early.

Our forecast for the remainder of the week looks promising as this storm will move out Tuesday evening leaving us under a N.W. flow which gives us a shot of (oragraphic) showers Wednesday, and additional snow, albeit low totals (1-3 inches).

We see another quick blast shoot through Christmas Day from the northwest giving us another shot of snow (2-4 inches). High pressure tries to nose in this weekend before another round of snow moves in early week. We will watch.

Overall it looks like a great Christmas week with storm totals from Mon-Tues. storm in the 10-14 inch range, and light dustings to follow through Friday.

Finally, Happy Holidays, and if you're lucky enough to be with us in "Happy Valley" remember, nothing cures the economic blues like face shots of white gold. Enjoy!


1 Comment on "Vail weather should be white for Christmas"