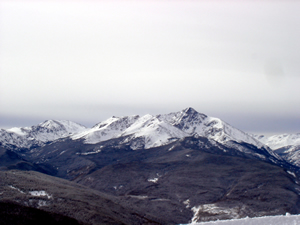 Blog Tools
Comments
PermaLink
White Christmas in Vail as Winter Storm Warning continues
By Reid Griebling
December 26, 2008 — A relatively warm Christmas Day saw a dusting of snow and calm winds, light snow fell for much of the day, but nothing really measurable.

A powerful winter storm is lurking to our west and dumping good amounts of snow in Utah. The Vail Valley is under a WINTER STORM WARNING, as much of the western slope is also. Forecasters are calling for heavy amounts of snow to fall overnight tonight (Thurs.) but it looks like this system has stalled in Utah and that could mean smaller amounts of snowfall in Colorado.

Right now the mercury reads 27 degrees, the dew point is 23.1 degrees and the humidity is at 85%. Winds are calm with breezes coming from the east and the barometric pressure has tanked since this morning and is holding steady at 29.68 inches. We have moisture moving in from the S.W. and a cold front moving in from the northwest.

Once these two collide we should see a good amount of snowfall.

Morning reports for Friday should range anywhere from 6-10 inches at Vail and The Beav' with higher amounts on S.W. facing aspects. Forecasters are calling for over 2 feet to fall by early Saturday, however, the stalling of this storm means we will most likely see lower totals than expected.

Temps for Friday will be chilly on mountain with high barely reaching the low teens and brisk winds (15-25 mph) from the N.W. Wind chill values will be low so if you are planning on skiing Friday, bundle up.

We have a slight chance of showers on Saturday and the sun should poke through for Sunday and Monday. Overall it looks like another great weekend of skiing at Vail and Beaver Creek.

Enjoy!

Comment on "White Christmas in Vail as Winter Storm Warning continues" using the form below