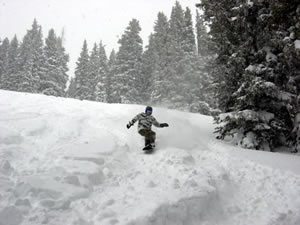 Blog Tools
Comments
PermaLink
Free shuttle rides out of Minturn Mile to Kirby Cosmos not just because of all the fresh powder
Unofficial shuttle out of Minturn Mile runs on top of hour starting at 1p.m.
By Reid Griebling
January 7, 2009 — Well, the Powder Predictor is batting .000 for the 2009 season. First off I did call for a powder day on New Year's Day and was stymied, and this past storm which rolled through Tuesday night (Jan 6) and lasted well into Wednesday, brought great amounts of snow, ooops.

I was lucky enough to ski Vail Wednesday and it was my best day of the season.

Vail reported 11 inches Wednesday (Jan 7) morning and The Beav' reported four inches. Snow in Vail was incredible, low moisture density led to very light snow and lots of it. I found spots on the mountain with at least 18 inches and there were wind drifts as deep as two feet. Face shots galore!

Our forecast for the remainder of the week looks good as we will see clearing Thursday Jan 8 with temps warming into the mid 20's on mountain and mild west winds. Early Friday morning we will see another system move into the area from the northwest bringing with it another bout of wind and snow. Temps will drop as this system closes in and we have a pretty good shot of accumulating snowfall. Northwest winds will increase and stay through the remainder of Friday.

Look for good oragraphic lift from this next storm and snowfall totals ranging from 4-8 inches by Saturday Jan 10. Beaver Creek may not see as much snowfall as the origin of the storm is from the north.

For you fair weather riders it looks like Thursday will be a "blue bird day" lots of sun and mild temps.

Finally, I was lucky enough to run into some locals on Chair 5. Garrett from Avon was playing morning hookey and Mark, who owns Kirby Cosmos, was doing the same. Mark also gave me a great tid-bit of info as well. Starting at 1:00 p.m. every day, Kirby Cosmos will pick up anyone at the bottom of the Minturn Mile and drop them off at the restaurant, for free. The shuttle, which happens to be a blue Suburban, will be doing pick-ups at the top of every hour, and did I mention its FREE!

If you are looking for good BBQ, pizza, and cold beer, make sure to stop by Kirby Cosmos in Minturn, located at 474 Main St. or call at (970) 827-9027. Thanks again Mark and Garrett for letting me tag along.

Enjoy!


Comment on "Free shuttle rides out of Minturn Mile to Kirby Cosmos not just because of all the fresh powder" using the form below