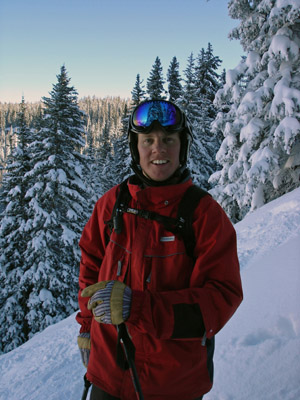 The Powder Predictor is still batting .000 this season forecasting heavy snowfall in the Vail Valley. But Vail has received four legitimate powder days so far in 2009. So we guess that is good news.
Reid Greibling
Blog Tools
Comments
PermaLink
Surprise! It just keeps snowing here in Vail
By Reid Griebling
January 13, 2009 — Surprise!!...It just keeps on snowing in the Vail Valley as we have had another 18 inches fall in the past 48 hours (Jan.12-13) and we finally see a break on the action as high pressure will build from our west and bring sunny weather to the area for most of the week (I think).

As some of the regular readers know I am still batting .000 for 2009, not really a bad thing considering I haven't called for a real powder day (and we've had four already). But the weather gods will shine some light on us this week bringing us warm temps and plenty of sunshine.

Our forecast for Wednesday Jan. 14th looks great as we should see partly cloudy skies and warmer temps into the mid 20's with northwest winds in the 10-15 mph range. We do have a 30% chance of snow, but this time a really think its going to miss us.

And the rest of the week looks the same as our next chance of real snow shows up Sunday Jan. 18.

Ahh, what do I know, 2009 has been a hard year for weather casting, so we could actually see more snow before the weekend. We will watch. Either way, its always good to be in the mountains.

Enjoy!

Comment on "Surprise! It just keeps snowing here in Vail" using the form below