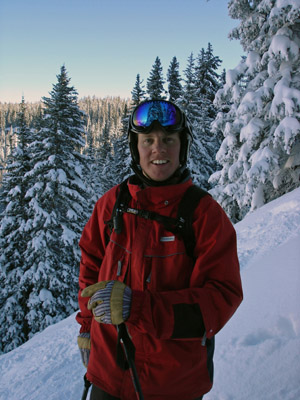 Reid predicts Sunday to be the day that he wants all of you to stay home. Or, in other words, the best chance for some great powder over the President's Day Weekend in Vail
Photo of Reid Griebling
Blog Tools
Comments
PermaLink
Powder days expected for President's Day Weekend
Sunday morning looks like the best for pow pow on Vail and Beaver Creek mountains
By Reid Griebling
February 13, 2009 — Winter has finally returned, after a long break, and looks to stay with us for a while.

Vail reported 4 inches for Fri. February 13 and The Beav' topped out at 7 inches.

It is snowing in the mountains as I write (9:30ish Feb. 13) and the sun is shining down here in "skiburbia". Skies seem to be clearing. Expect another 2-3 inches to fall at the resorts as we will see clearing skies by this evening.

Our next storm is churning out west and pouring heavy amounts of rain and snow in California. It looks like this storm will stall a bit as many forecasters are calling for snow all day on Valentine's Day (Saturday).

I expect cloudy skies Saturday as this low slowly moves into the Rocky Mountains from the southwest. Winds will be strong from the southwest and west as this next storm approaches. Models show wind speeds in the 20-30 mph range, although some say we may see rather light winds, which is rare this time of year.

Temps for this holiday weekend will be on the chilly side as cold air will be filtered in from Canada via the shifting jet stream. Look for on mountain highs for both Saturday Feb. 14 and Sunday Feb. 15 to be in the mid to high teens and overnight lows to be close to zero. Expect windchill values to be well below zero on the mountain as west winds should increase throughout the day Saturday and into Sunday.

It looks like our best chance for a powder day will be Sunday Feb. 15 as snow should start falling Saturday evening and intensify overnight. Expect 7-11 inches for morning reports at both Vail and The Beav' with resorts along the divide to receive good totals as well.

All in all it looks like a great weekend to be in Vail as President's Weekend will be the harbinger for weekly events in Vail and Beaver Creek through the rest of the season.

For more info on upcoming events visit Real A&E or visit the RealVail Calendar.

Enjoy!



Comment on "Powder days expected for President's Day Weekend" using the form below