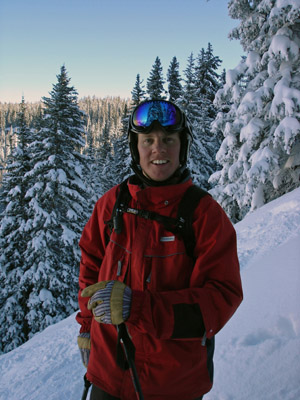 Powder Predictor is still staring skyward looking for a few big powder storms before the end of the season in Vail
Reid Griebling
Blog Tools
Comments
PermaLink
A whopper dumps snow in Vail, will there be another in March?
March shaping up much like February
By Reid Griebling
March 12, 2009 — A whopper of a storm hit our Valley on Tuesday and dumped good amounts of snow at Vail and Beaver Creek, a storm that I actually brushed off assuming it would stay north and only give us a dusting. Oops.

Our next chance of snow shows up this weekend (Mar. 14-15) albeit a slim chance at any real accumulation (%20-%25).

The good news is temperatures are expected to be below average for the next five days. On mountain temps will reach the low to mid twenties, keeping the 14 inches of snow from that last seven days nice, cold, and fresh.

West winds will increase Saturday Mar. 14 into Sunday as a weak low moves across the southern region of Colorado. Nothing to get too excited about, but enough to mention, look for 10-15 mph winds during the day Saturday and Sunday.

It looks like the San Juan's will be the only mountains having a good chance for snowfall as this storm will move east into New Mexico and Kansas as Saturday moves on. We see another disturbance move in mid week (Mar. 17-19) and this should give the northern and central mountains a better chance of snow.

As for now, enjoy the snow that has fallen, it looks like March may end up like February, yuk! Maybe it's not too early to get the bikes tuned and the clubs re-gripped.

Enjoy!


1 Comment on "A whopper dumps snow in Vail, will there be another in March?"