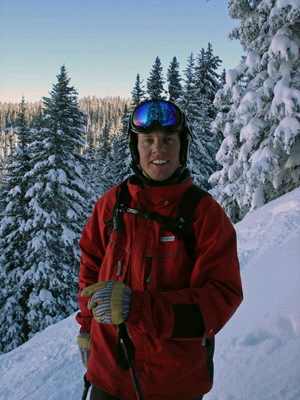 Blog Tools
Comments
PermaLink
Vail's first spring storm could be big, but golf season just around the corner at Eagle Ranch
By Reid Griebling
March 20, 2009 — Sunny, mild weather is still dominant over the Western Slope as high pressure will stay with us until Sunday, March 22. By Monday we should see snow move into our area, with gusty winds and cooling temps.

Right now it looks like this could turn into quite a storm if all goes well. We will keep watch as this system approaches. In the mean time I have some information to share courtesy of Derek Rose, superintendent of Eagle Ranch golf course.

I visited Derek earlier this week to check out their new toy. Eagle Ranch has invested in a Wiedenmann Super 500. What is this, you say?

Well, for all intents and purposes it's a gigantic vacuum. But not like the Electrolux that was handed down to you from your mother-in-law. This is a vacuum that sweeps, verti-cuts, and ... sucks.

"Power raking at a larger level," says Rose. "Many homeowners have a power rake they use to clean up the lawn as spring arrives; ours will clean up the whole golf course.

"Wall-to-wall clean up," brags Rose, this machine can pick up vole (small field mice) damage, elk droppings, dead grass, and anything else that is buried under the Colorado snow for much of the winter.

The machine will be used everywhere on the course, excluding the putting surfaces, giving the course a renewed look and healthier
growing environments earlier.

Look for May or June conditions in April as Eagle Ranch is
planning on opening April 8. Eagle Ranch golf course is also promoting a few new pass options for early season golfers.

For information visit www.eagleranchgolf.com or call (970) 328-2882.

Enjoy!

Comment on "Vail's first spring storm could be big, but golf season just around the corner at Eagle Ranch" using the form below