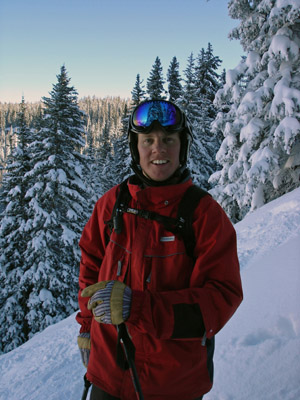 Blog Tools
Comments
PermaLink
April Fool's snow in Vail no joke with more to come
By Reid Griebling
April 2, 2009 — April Fools! The snow report on the homepage left was the snow that had fallen all day Wednesday April 1, so don't get too excited for the 9 and 11 inches that was reported for today.

However, the skiing should be great today as I was lucky enough to ski The Beav' yesterday (April 1) and the skiing got better as the day progressed. Today the snow should be soft, and fresh tracks are available for those who venture.

Our weekend outlook looks great as another storm moves into our area by Friday (April 3) afternoon. A strong low pressure system and associated cold front will bring windy and wintry weather to the Western Slope by late Friday (April 3) and last well into Saturday (April 4).

Some models show that this storm may stall, but we will see significant snowfall by this weekend. Rain will fall in the lower valleys Friday evening before turning to all snow as temps will drop and winds will increase from the west/northwest.

Temps will be in the low 20's and high teens overnight Friday and Saturday as daily temps will be mild (mid 20's). Winds will be brisk ranging from 15-25 mph and gusts into the 40-50 mph range over exposed ridge tops.

As this storm moves out Saturday we will see residual moisture from the northwest favoring the Steamboat, Vail, and Winter Park areas. Expect snow totals for the Saturday report in the 4-8 range. Snowfall will continue Saturday (April 4) with daily totals in the 4-8 range as well.

Overall it looks like Sunday will be a bluebird day as this weekend could be our last shot at significant snowfall.

We have another shot at snow Tuesday and Wednesday (April 7-8) but not as active or potent. We will keep you posted as the weekend arrives, until then, Enjoy!


Comment on "April Fool's snow in Vail no joke with more to come" using the form below