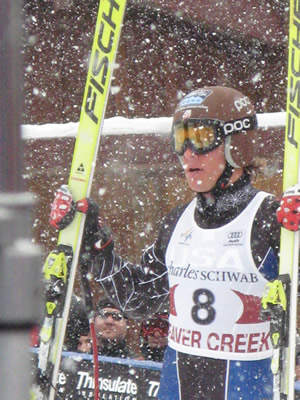 Snow fell like gangbusters on Steven Nyman of the U.S. Ski Team during a Beaver Creek Birds of Prey race in 2007. Snow fell again in 2008, and it looks like it could happen again in 2009.
Blog Tools
Comments
PermaLink
Weather may come again during 2009 Birds of Prey at Beaver Creek
By Reid Griebling
November 30, 2009 — It's Birds of Prey week in the Vail Valley and it looks like it will be four years in a row of snow for the racing weekend.

After a sunny and relatively warm week, we will see another storm move in from the northwest.

This storm should pack a little more punch with cold temps and more moisture. The jet stream will be the big issue this week as it will have a huge impact on the trajectory of this storm, but as I said, history is favoring our area as the last four years we have been pounded with snow over the race weekend, with at least one race being canceled.

Let's hope this one does not disappoint. For now, enjoy the sunshine and keep watch for things to change in the west. Enjoy!

Comment on "Weather may come again during 2009 Birds of Prey at Beaver Creek" using the form below