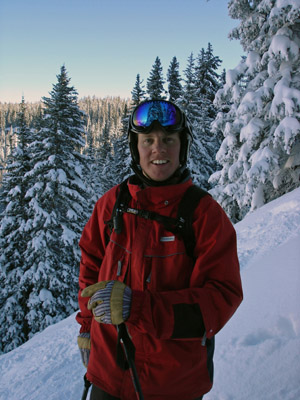 Blog Tools
Comments
PermaLink
Finally ... Ullr opens up the snow spigot on the Vail Valley
By Reid Griebling
December 7, 2009 — It's here.

And models show that it should be here throughout the week.

A strong low pressure system sits out in Vegas right now, streaming white gold into our area. Cold temps, lots of Pacific moisture and great dynamics will give every resort in Colorado the snow needed to ignite the 2009-10 season.

The San Juan Mountains in southwest Colorado will get pounded today (Monday, Dec.7), and once this system fully moves into Colorado, the central and northern mountains will get their chance. Look for snow fall to increase this evening and continue overnight.

My early forecast noted that this storm would gradually end by Tuesday, but I was wrong. It looks like this particular system will be with us until late Tuesday, Dec. 8, and another system sits in the wings.

Look for off-and-on snow throughout the week, giving Vail and Beaver Creek good amounts of snow to open more terrain. Temps will be seasonal for the week, with highs in the high teens and lows in the single digits. Winds will be from the southwest throughout most of the week, as this is where the jet stream is set up.

Overall, an exciting week in Vail as Snow Daze fires up with concerts, bar specials, and most importantly, snow ... and lots of it.

I could estimate snow totals for the week ... but it doesn't really matter, as we should see active weather for the remainder of the week. Thank you, Ullr!

Enjoy!


Comment on "Finally ... Ullr opens up the snow spigot on the Vail Valley" using the form below