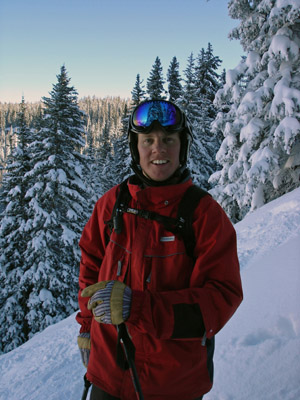 Reid is giving up this dry weather for Lent. We all hope that works!
Reid Griebling - The Powder Predictor
Blog Tools
Comments
PermaLink
Cold northwest flow will bring Arctic air to Vail Valley with snow likely every day this week
By Reid Griebling
February 16, 2010 — Happy vibes in Happy Valley as northwest flow has squeezed out every bit of moisture that has come into our region. I know its not much (5 inches reported this morning at Vail on Feb. 16) but every little bit helps.

And as Mardi Gras week revs up, Vail and The Beav' have a good chance of snow until the weekend.

High pressure still dominates out in the Pacific Ocean, which shifts the jet stream to our north, bringing colder air and any moisture that might be lingering in Idaho and Wyoming.

Temps for the remainder of the week will be just below normal as colder arctic air dips in from Canada, expect on mountain highs in the upper teens to low 20's and overnight lows reaching the single digits. Winds will be brisk at times as this northwest flow will remain for nearly five days. Expect winds in the 10-20 mph range with gusts into the 30 mph over exposed ridge tops.

Snow is likely every day, and as I said, not much in the way of "calling in sick" snow, but enough to soften things under foot and change the attitude of northern ski town residents.

Expect snow totals for the remainder of the week to range anywhere from 3-6 inches everyday with a shot at more (4-8) Thursday night into Friday (Feb. 18-19). These storms will favor Vail over Beaver Creek, but The Beav' should see snow on the ground each day.

With higher winds than we have seen in some time, avalanche danger is again increasing as we accumulate more snow on leeward aspects. Please prepare accordingly if you plan to travel into the back/side country, as human triggered avalanches can happen.

Overall a good start for those of you who enjoy the Mardi Gras season, I for one will be giving up dry weather for Lent this year, lets hope that works.

Enjoy!

Comment on "Cold northwest flow will bring Arctic air to Vail Valley with snow likely every day this week" using the form below