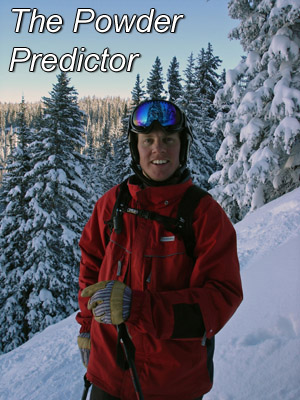 Blog Tools
Comments
PermaLink
Increased winds from Northwest could bring bigger snow totals in Friday storm
By Reid Griebling
March 9, 2010 — It was a surprisingly good morning in the Vail Valley as unpredicted snowfall graced the mountains of Colorado with higher than expected snow totals.

Vail saw 4 inches this morning (Tuesday, March 9) and The Beav' reported 6. We have an active week ahead of us as numerous disturbances will move through the Western Slope over the next few days.

We had above average temps today as highs in the lower valleys were well into the 40s, and on-mountain temps rose into the 30s. This will be short lived as clouds will develop by this evening, with moderate snow showers likely by mid-day Wednesday March, 10.

Snow will continue through Wednesday, accumulating in the 2-4 inch range by nightfall. We should see a break in the action Wednesday night, as another deeper and stronger trough of pressure moves in by Thursday evening. Expect on-mountain temps in the low 20s with west winds in the 15-20 mph range. By Friday morning (March, 12) we could see big totals as orographics look favorable with good moisture and plenty of energy.

I'm forecasting low totals for now (4-8 inches) by Friday, however, if winds increase from the northwest we could see some big totals overall (8-14 by Friday). Finally some good news for the central and northern mountains as patient snow-riders may get what is coming to them. Keep close tabs here as I will update this blog via the comments box.

Enjoy!!


1 Comment on "Increased winds from Northwest could bring bigger snow totals in Friday storm"