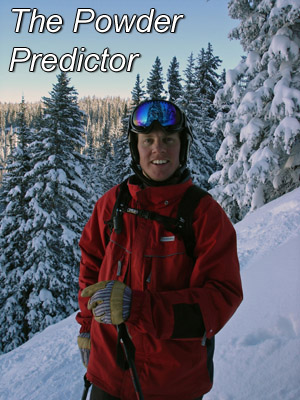 A cold front is working its way into the Western Slope, and should bring 3-6 inches by Wednesday morning.
Blog Tools
Comments
PermaLink
April may bring much-needed snow to Vail, Beaver Creek
By Reid Griebling
March 23, 2010 — Active weather is taking over our area once again as a cold front associated with a low pressure system works into the Western Slope.

Rain and snow showers will begin to fall in the Vail Valley during the evening commute and continue overnight into Tuesday March, 23.

Wednesday morning (March 24) will see much colder temps as skies clear by Wednesday afternoon.

Expect overnight lows Tuesday to drop into the low 20's giving Vail and Beaver Creek favorable temps for moderate snowfall, add strong west winds and we should see a good ski day Wednesday.

Expect 3-6 inches by the Wednesday morning snow report, with plenty of snow moved by gusty winds overnight. Winds could reach as high as 40 mph over ridge tops through early Wednesday morning, giving leeward faces higher amounts.

On-mountain temps for Wednesday will be in the 20s as mostly cloudy skies will keep temps lower than average. As we approach the last month of ski season, weather looks active for much of April, giving us a shot at some much needed snow for the warmer months to come.

Enjoy!


Comment on "April may bring much-needed snow to Vail, Beaver Creek" using the form below