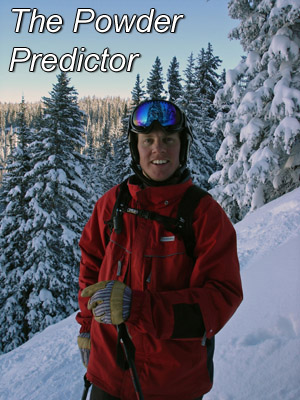 Blog Tools
Comments
PermaLink
No fooling: March goes out like a lion in Vail with a good shot of snow for April Fool's Day
By Reid Griebling
March 30, 2010 — Gusty winds precede a strong low that will take hold of the mountains beginning mid-day, Wednesday, March 31.

Warm and windy weather will give way to snow and rain by late Wednesday evening and continue to impact the area through Friday morning, April, 2.

We finally see a system that should bring widespread snowfall to all resort areas on Colorado. As of now, models show that this storm will bring much of the snow to the southern and central mountains early Thursday, April 1, with winds shifting to the northwest by late Thursday, thus affecting Vail and the Beav' overnight Thursday into Friday.

Dynamics look good for this system with gusty winds, plenty of moisture and an associated cold front taking over by late Thursday.

Temps for Thursday and Friday should be colder than normal, with on-mountain highs in the low 20s and gusty winds in the 15-25 mph range over ridge tops.

Snow totals will range in the 3-5 inch range for Thursday morning, with snow falling all day Thursday into Friday morning.

Expect Friday morning totals in the 4-8 inch range with higher amounts on leeward-facing slopes.

Overall a great storm to see as April arrives, giving the high country one more shot at accumulating snowfall for the spring run-off season.

Comment on "No fooling: March goes out like a lion in Vail with a good shot of snow for April Fool's Day" using the form below