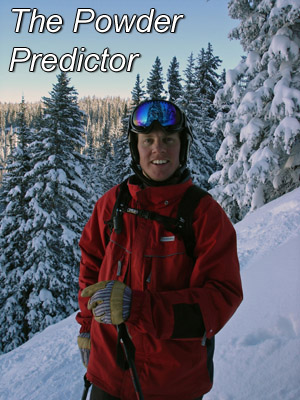 Blog Tools
Comments
PermaLink
Storm arrives late but delivers big, with another shot of Vail Valley snow coming Monday
By Reid Griebling
April 2, 2010 — First, a heartfelt thanks to Ms. Schlossinger's fourth-grade class at Vail Mountain School for hosting me as a guest speaker.

All of you were wonderful hosts with great questions and interest in the world of weather. I hope they had as much fun as I did.

Another wrong forecast for yours truly as snow developed late and didn't arrive in Vail until late morning on Thursday, April 1. However, when it arrived, whiteout conditions persisted for much of the day Thursday.

Morning reports for Friday, April 2, were higher than expected with Vail coming in at 11 inches and the Beav' at 8 inches.

Easter weekend looks great as partly cloudy skies will be the norm for both Saturday and Sunday, April 3-4, with temps slowly rising into the 30s and 40s by Easter Sunday.

Winds will be brisk out of the northwest both Saturday and Sunday keeping on-mountain temps rather cool. Expect winds in the 15-25 mph range and on-mountain temps in the 20s with windchill temps in the teens.

But with all the new snow, a little taste of winter in early spring reminds us that the weather in the Rockies changes constantly.

Our next chance for snow arrives later in the day Monday, April 5, as another system moves into the Western Slope from the northwest.

This next system doesn't look to have the punch as this past weather-maker; however, snow totals could again be above average for Vail and Beaver Creek.

Overall, a great treat for snow-riders who have been stymied by the weather gods, and another excuse to head west for those who are ready for warmer weather.

Happy Easter. Enjoy!

Comment on "Storm arrives late but delivers big, with another shot of Vail Valley snow coming Monday" using the form below