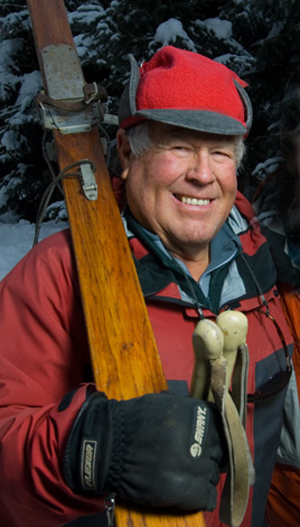 "Louie" poses with a pair of antique skis, similar to a pair he wore when he first began skiing many years ago.
Blog Tools
Comments
PermaLink
Mother Almond and the original terrain parks
By "Louie"
January 7, 2008 — Bickering and bantering were an almost daily occurrence between myself, many of my ski patrol buds, and Donald "Mother" Almond, who was Vail's first mountain manager from its opening in the winter of 1962 to spring of 1969.
The most contentious issue was usually the creation, enhancement, and maintenance of several jumps (or gelundesprungs, as they were often called back then) throughout Vail Mountain. Not only did my cronies and I believe that air time was an integral and inexorable part of skiing, we also believed that the sculpting of the kickers and maintenance of the landings made the jumps much safer.
The Understories reading guide
Louie was a Vail ski patrolman from 1963-1970, and still lives in the Vail Valley. He skis more than 100 days a year, and rides the whitewater when springtime comes.



His collection of stories from the early days of Vail and Aspen, called "The Understories", are being serialized on realvail.com.



To read The Understories from the beginning, scroll to the bottom of this page and read from his first entry, "The Introduction."
Mother disagreed, of course, in spite of having patrolled in Aspen (a much more liberal environment than Vail, on the whole.) I can't imagine his reaction to today's terrain parks and big-air contests, all taking place on features sculpted by Vail's grooming machines, etc., and all with the blessing of corporate skiing.
On the other hand, there was one thing about Mother Almond that made his arguments just a bit more persuasive: he rode up the mountain each and every day with a 9mm magnum pistol strapped to his side. I suppose Mother skied fully armed in order to thwart any robbery attempt on the ticket office, which was located at the head of Bridge Street and was managed (I think), by Linda Nottingham.
His concerns may have been justified. Vail was not an incorporated town then (and wouldn't be until 1966) and had no formal law enforcement except for one mellow deputy sheriff by the name of Clare Elliot, and several volunteer "rent-a-cops," some of whom are from ski patrol. Mother encouraged patrollers to be in "deputy" mode at all times … but could we arrest ourselves?
And if anyone was to be arrested, shouldn't it be Mother himself? Careful as he was up on the hill, I recall one evening when Mother blew a hole through his trailer (parked in the old "sin city,") with a 12-gague sawed-off shotgun (another one of his "people-guns" as I called them).
We entertained many questions about Mother's managerial style. Another one, for example, was how Mother (with is Head Standard skis, Cubco bindings, and ultra-conservative approach to skiing), would make it down to the ticket office in time to capture a robber.
And on another occasion, Mother came up to PHQ and announced that we all should become Karate experts, as a self-defense mechanism in case of a spring riot...

Read more Understories in the next installment, coming soon...

Comment on "Mother Almond and the original terrain parks" using the form below