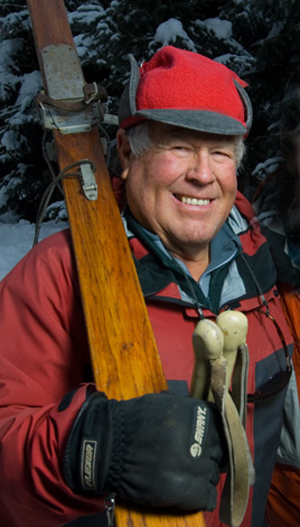 Louie joined Vail ski patrol in 1963 from Aspen Highlands, where he had been patrolling for a number of years. His "Understories" are all the tales from the sixties and seventies during his days as a ski patroller, a carouser, and above all an outdoorsman.
Blog Tools
Comments
PermaLink
The great sheep rescue
By "Louie"
December 24, 2008 — There are incessant innuendoes regarding man's relationship to sheep, none of which escaped our notice on a stormy fall day in 1963, when a group of Vail's "finest" ski patrolmen became involved in helping a band of sheep from certain death.

The sheep had been caught by a series of late fall snowstorms at higher elevations, before they could reach the main valley floor and relative safety. Even though this rescue contained practical applications – especially to their owner, Allen Nottingham, the whole thing was actually one huge publicity stunt for Vail Associates. It was contrived by who-knows-who in order to get the Denver Post writers and photographers up to Vail to produce another story on our town – this time with a slant on the fun and unusual side of our neophyte ski area – rather than the typical straight story on the fabulous powder skiing.

Allen, a truly terrific guy (and local rancher) had a genuine interest in learning what skiing and ski areas were all about. We patrolmen were always happy to help him learn to ski better, and since he already knew how to drink, he soon became one of the "the boys." At that time, patrol was a loose-knit fraternity of sorts, but without the ordinary constraints of decorum – especially after sweep. We all became kings of the hill, if you will. Soon after this sheep rescue, for example, some of us got into elk hunting, many an adventure and escapade involving hunting with Allen could be told about our times up in the Beaver Creek area long before there was any development.

Allen, who was a pilot with a small, single-engine plane, had spotted his sheep, and in fact was somehow able to free-fall some bails of hay to his surviving sheep to keep them going. As I recall, they were located near the head of June Creek just below tree line.

The appointed day came, the press arrived, and a few of us in complete ski patrol regalia backcountry skied or were towed up on some sort of a snow cat. The snowcat itself was probably an improvisation of Vail "finder" Earl Eaton's, one of the kind for which he was so famous, or maybe an old Army "Weasel" like the one we once drove to Deep Lake, high in the Flat Tops, for an ice fishing expedition on another occasion – but I digress.

After a couple of hours behind this makeshift snowcat, struggling up an old jeep road covered with several feet of snow, we arrived at a point where everyone had to put on their skis and hike a bit to get to where the stranded survivors were. Allen, of course, was our guide, since he knew the country forward and backward, and he brought us to the right spot – almost like a small corral – where the sheep had decided to camp out and stomp down the many feet of snow.

It was difficult to estimate how many surviving sheep were left, maybe 20 or 30. Layers of dead sheep were scattered throughout the clearing along with hay, snow, more dead sheep and more hay. The survivors seemed content to walk about and huddle together on top of their less-fortunate brethren and sistren.

Pictures were taken, notes were written, and it was all-in-all a great day for another adventure. I think we actually dragged in a bale or two of hay – just to make it realistic for the newspaper – but no sheep were actually herded out by us that day. We did pack out a small trail in the snow back to the "cat-weasel" so that within the next day or two, Allen was able to herd out the survivors.

The coyotes, ravens, and magpies must have had a field day!

After we got back to town, as any self-respecting patrolmen would do, we naturally had to critique the day's heroics over many pitchers of beer and shots of whatever in one of Vail's only three bars – most likely the downstairs dungeon of the Red Lion. It was an unwritten rule that we sequestered ourselves down there, away from most of the general public.

In the morning, bleary-eyed and all, we went up the mountain to herd and protect a different brand of "sheep" although I admit – and I can't emphasize this enough – that in general the skiers of the 50s, 60s, and even 70s were much more self-reliant, independent and competent in taking care of themselves. There really wasn't that atmosphere of pampering, catering, and wimpy-ism that is so prevalent around modern day ski areas. There was simply the overriding joy and enthusiasm for skiing that precluded everything else. To be a competent skier in all conditions was a truly athletic and not very easy endeavor. No offense to local management and the marketing people, but that is just one of the ways skiing and the skiers themselves have changed over the years.

One thing that hasn't changed, however, is Vail's creative ways to get itself in the paper - perhaps there aren't any sheep rescues anymore, but there is always something going on in Vail.

Comment on "The great sheep rescue" using the form below