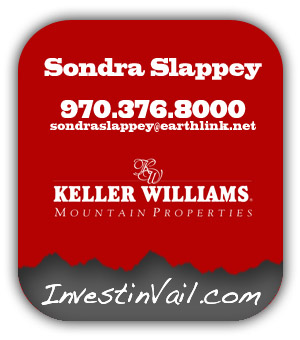 Sondra Slappey writes about Vail Real Estate, Beaver Creek Real Estate, and Vail Valley Real Estate in general, following trends, news, and information about Colorado real estate.
investinvail.com
Blog Tools
Comments
PermaLink
Vail Real Estate Inventory Still Rising
By Sondra Slappey
July 10, 2009 — There are officially 1806 active residential listings in the Vail Valley as of today. That represents an increase of 25% since the first quarter of 2009 and an 8% increase in the last month.

My phone is ringing off the hook with people wanting to sell their properties. I am still taking listings if the sellers are serious and willing to price aggressively.

Many real estate professionals I know have decided to decline new listings as they are simply not seeing any buyer traffic.

The rental market is not faring much better but there is hope for that segment as we head into the next ski season. We are still on the slippery down slide here. Hang on to your hats, and buyers take notice.

Commercial properties and new developments will be the next big hit to the market - mark my words. It does not cost me a thing to be optimistic but I am also realistic and the numbers just don't lie.

Comment on "Vail Real Estate Inventory Still Rising" using the form below